Weekly Round-up: 24 Sep 23
PhillBrown
All the latest news, events, and results from NFCC Members from this week's two-wheeled adventures…
Saturday Club Ride
This week's club ride was a 126Km ride north out of the forest to avoid the Round Ups. Although we were treated to a dozen or so ponies at full gallop near Roundhill but they were just practicing for what was to come later. Fourteen riders made the start with a few regulars taking a day off with an eye on Sundays Time Trial. Six riders volunteered for group one and eight for group two. The ride was progressing as planned until Beaulieu when the first mechanical issue of the day occurred. Smithy's electronic gears stopped shifting, less charitable members of the group suggested he had failed to charge the battery again (he has form here) which he vehemently denied. No roadside fix was possible so Matt and his handler, Phill B, headed up to Woods Cyclery for expert assistance. They arrived at the shop and were greeted with amazement. They had never seen a bike with such skinny and smooth tyres, let alone somebody riding a bike without sculpted facial hair, no tattoos or piercings. They managed to convince them that this was a "cyclist and a bike" and they duly put down their artisan skinny oat milk mocha lattes and slithered into action. The fault was diagnosed as a corroded battery and Smithy's ride was over. He had no idea how this could have happened as the only time he sweats is when he looks at the club ride plan on a Thursday and sees that Barry has put Dean Hill into the route. He duly rode home on his new single speed bike, despite his best efforts at trading it in for something red and Italian on the way.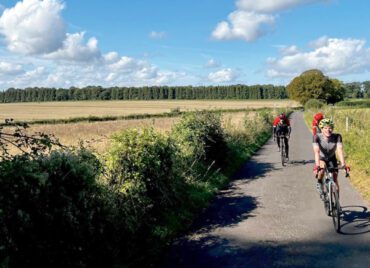 One beneficiary of Smithy's mechanical was Ian who missed the start and had to time trial his was to Beaulieu to catch up, and was grateful for the stoppage. We are hoping he's not our pilot when we go on the club training camp next year as we expect to hear on the tannoy, "Good morning, my name is Ian and I'll be your pilot today. Sorry we're late taking off, but I couldn't get my arse out of bed this morning. But don't worry I'll put the afterburners on all the way to Bologna".
This was not the last of the mechanicals for the day. Jay broke a spoke and had to turn back. If this was a group two rider, especially the author, I would put it down to too many pies but I know that's not the case with Jay so that will go down as an Act of God unless repeated. Then Reece had a crank issue, which can be attributed to him starting work this week and breaking from his previous life of having nothing to do all day apart from train, race and tinker with bikes.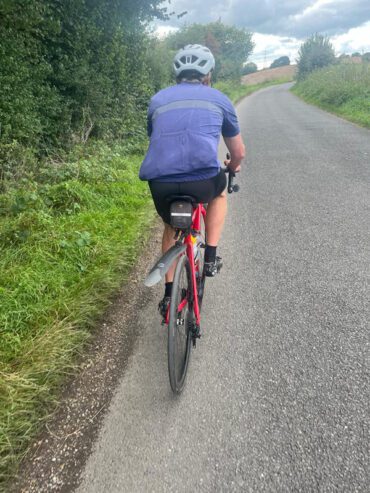 With fifteen riders out. there was no problem finding candidates for the barrel this week, indeed we had a full podium. But a first-time recipient of the award is Stuart. He had his bike fitted with a Crud Catcher mudguard… Convention is to align these with the wheel to stop road dirt from spraying up your back. Stuart's idea was to fix it at a jaunty angle to keep his left leg dry. We believe he's saving up for a second one to place at an opposite angle to keep his right leg dry as well.
The author would like to take credit for his genius route planning this week. We came across eight Road Closed signs and none of them affected the planned route. He has however chosen to overlook his error on the Bartley part of the route – again.
As for the ride, group one became a group of three after the coffee stop with Ben peeling off for enforced family fun in Stockbridge and Mark duly got towed home. Group two continued without incident and did some very tidy through and off drills on the way back. As usual a few rounded up to 100 miles so extra kudos there.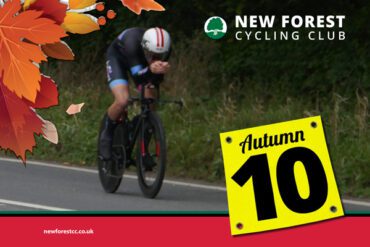 NFCC Autumn 10 2023
A huge thanks from Phill B to everyone involved in making the NFCC Autumn 10 Open TT such a success on behalf of the club, especially those that gave up their Sunday mornings to volunteer on the day; Ben George – Gerry Read – John Burridge – Maggie Bracher – Margaret Read – Peter Hawker – Peter Weaver – Phil Jones. Barry Hards was the fastest NFCC member on a TT bike with James Noah the fastest on a Road Bike. Bev Hards fastest woman from NFCC.
Find out more, see the results and find images by CLICKING HERE.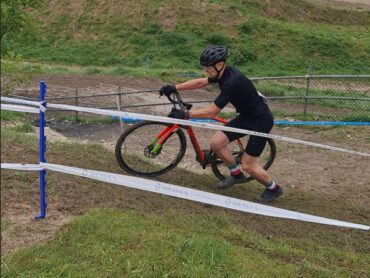 Wessex CX 23/24: Rd.3 – Foxhills
Cyclocross continues with the Wessex CX League 2023-24 season… Round 3 at Foxhills this weekend, find out more by CLICKING HERE.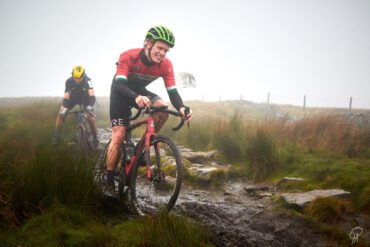 59th Annual 3 Peaks Cyclo-Cross Race
It is the time of year when a group of hardy cyclocross riders are let loose in the yorkshire dales to battle the infamous 3 peaks cyclocross race.
A prestigious event in its 59th edition, the course follows much of the popular hiking route which some will be familiar with. 61km with between 1500 and 2000m of elevation gain depending on who you ask, the race takes competitors to the 3 highest peaks in the Yorkshire Dales; Ingleborough, Whernside and Pen y Ghent. With some of the route following well trodden paths and other parts up 45 degree grassy hillside, there is as much clambering with bike hefted on shoulder as there is riding. The 2023 edition of the race was marked by NFCC representation for the first time in a number of years, Joe Shepherd was flying the flag for the club on the mountains while Lucy Greehy, Phil Grant and Emma Shepherd provided amazing support from the sidelines.
Joe's race report:
With a position near the back at the neutralised start, I managed to keep out of trouble and made it to the top of Ingleborough in a decent time of 1 h 04 mins in 135th position. The hair raising descent to Cold Cotes took just over 16 mins and carried me up to 90th place.
Whernside summit came and went in a sea of cloud, the headwind howling on the descent through Blea Moor, after a few tumbles on the treacherous limestone steps coming down off the mountain I was down to 123rd place. I was incredibly grateful to hear and then see Phil and Lucy waiting for me in the shadow of the Ribblehead viaduct.
After a pause to gather my thoughts, as well as water and jelly sweets, I pushed on into the lashing rain towards Pen y Ghent with a growing sense of dread. After turning off the road onto a stony track the gradient soon reduced most riders to trudging again. The spectacular scene of a line of riders snaking up into the cloud was a pleasant distraction from the cramp now biting in both of my legs. The final push to the summit saw the return of slippery limestone steps before the relief of reaching the final peak of the day. The respite was only brief as what followed was a bruising, bone shaking descent on which I managed to make up 8 places, pushing on down the final section of road to finish 114th in a respectable time of 04:18:34 not bad for a first attempt.
An epic day out on the bike which I am keen to do again and try to improve my time, more hill training and bravery required!
Get Involved:
If you find yourself out and about representing NFCC, don't forget to jot down a few words, snap a few photos and send them over to press@newforestcc.co.uk.