About New Forest Cycling Club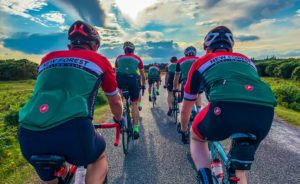 After being founded in 1934, New Forest Cycling Club has over 85 years of history riding around the beautiful New Forest National Park and beyond.
With organised and led Club Rides on Saturdays and Sundays throughout the year, there is plenty to get involved in with NFCC. Weekly evening time-trial events from mid-April through to the end of August give those who like to race against the clock a chance to stretch their legs in various Club leagues – our courses may not be the fastest around, but they are much more enjoyable than racing along main roads… you just have to be prepared to dodge the occasional New Forest Pony!
Along with time-trialling and club rides, various club members also take part in sportives; track racing; cyclo-cross, road racing; triathlon; duathlon and running so you are likely to find a Club-mate who shares your interests. Although we enjoy all sorts of competition we don't let it get in the way of simply enjoying ourselves and have various social events scattered throughout the year.
The New Forest has a strong history of time trialling, with members achieving some good results in the area. The following web site link is worth a browse on a lazy Sunday afternoon! http://www.southdc.org.uk/archive/index.htm
If you want to find out more you can contact us via the link on the Membership or the Contact Us page, or just turn up for a chat at any one of our events. You are welcome to 'come and try it' but we advise contacting us first for a bit more detail.