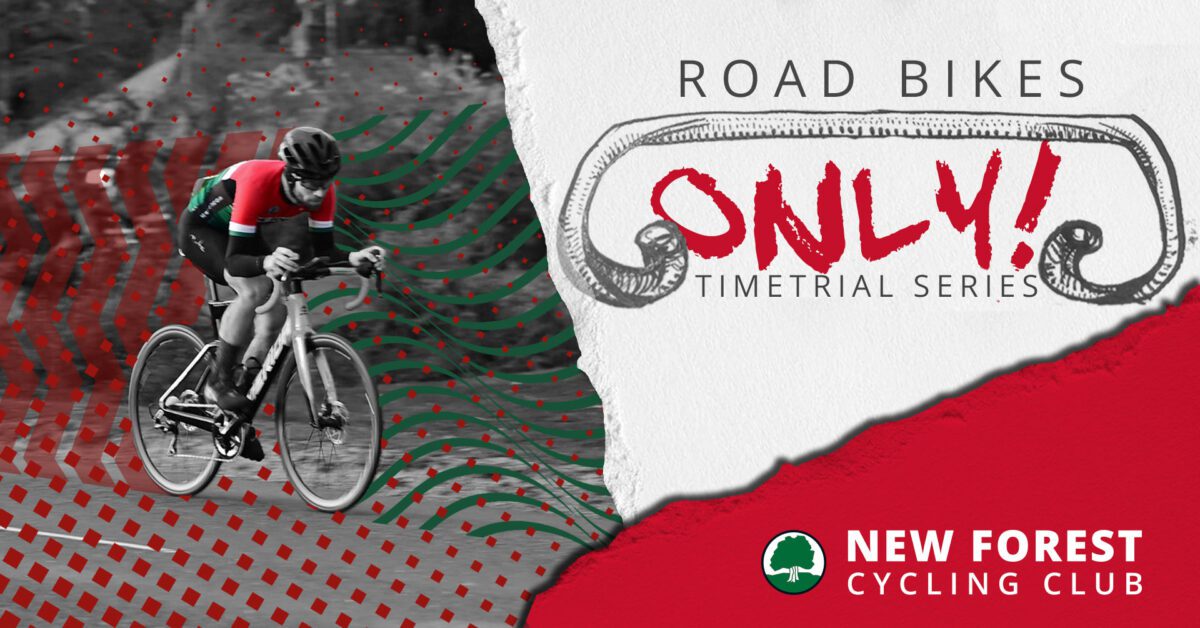 NFCC are proud to take time trials back to their grassroots with the introduction of the Road Bikes Only TT Series. Introduced to help make time trials a little more 'fair' the events are open to all, but scoring will only be given to those using anything other than a TT specific bike – don't worry if you've only got a touring bike or a cyclocross bike, as long as it's not a TT bike, you're in.
There's a few simple rules…
No aerobars, clip on aerobars or aero extensions
Hands must be holding the handlebars at all times (ie. no 'puppy paws'- forearms resting on the handlebar)
Wheels must have a minimum of 12 spokes each, and have a maximum rim depth of 65mm
Helmets must have no visor
Ears must not be covered by the helmet (Giro Aerohead helmets are not permitted)
Clothing that provides an aerodynamic advantage is not permitted (e.g. skinsuits and overshoes etc.) Riders seen to be using this equipment may be given a time penalty at the race director's discretion.
Scoring will be along the same lines as the familiar NFCC Ten Series – 15 points for first position, down to 1 point for 15th. The series is made up of 6 events across the season and riders will be required to marshal for one event to qualify for an overall series position – riders who assist with marshalling or time-keeeping will be given full (15) points. A rider's best scores from four of the six events will count towards their final score.
PLEASE NOTE: All riders will be required to have working front and rear lights on departure and must wear a helmet for the duration of the event.
---
Current Standings for the NFCC Road Bike Series:
| Name | Total Points | R1 | R2 | R3 | R4 | R5 | R6 |
| --- | --- | --- | --- | --- | --- | --- | --- |
| Ben George | 45 | - | - | 00:26:10 | 00:25:04 | - | Marshal |
| Phil Grant | 37 | - | - | 00:27:37 | 00:26:27 | - | 00:27:21 |
| Mark Cowling | 35 | - | - | 00:27:37 | 00:26:37 | - | 00:27:44 |
| Sien van der Plank | 35 | - | - | Marshal | 00:27:10 | - | 00:28:10 |
| Joe Shepherd | 29 | - | - | 00:26:24 | | - | 00:25:40 |
| Barry Hards | 28 | C | C | 00:28:57 | 00:27:18 | C | 00:28:48 |
| Bev Hards | 23 | A | A | 00:29:39 | 00:28:18 | A | 00:29:37 |
| Reece Dawson | 26 | N | N | | 00:25:34 | N | 00:26:57 |
| Phil Jones | 21 | C | C | 00:31:31 | Marshal | C | |
| Mario Tinge | 15 | E | E | | | E | Marshal |
| Jay Tarrant | 14 | L | L | | | L | 00:26:31 |
| Robert Sewatman | 14 | L | L | | 00:25:25 | L | |
| Mick Anglim | 12 | E | E | | 00:32:59 | E | 00:33:36 |
| James Noah | 11 | D | D | 00:28:41 | | D | |
| Roger Morris | 8 | - | - | 00:30:44 | | - | |
| Ed Belsham | 8 | - | - | | 00:27:34 | - | |
| Emma Shepherd | 7 | - | - | 00:31:28 | | - | |
| Graham Sharman | 7 | - | - | | 00:27:50 | - | |
| Ted Ward | 0 | - | - | DNS | | - | |
| Sam Dorking | - | - | - | | 00:26:44 | - | 00:28:13 |