Weekly Round-up: 09 July 2023
PhillBrown
All the latest news, events, and results from NFCC Members from this week's two-wheeled adventures…
NFCC Road Bike TT Series: P128
Due to road work and surface dressing on the course, the planned P128/10 in the Road Bike TT series was cancelled in the interests of rider safety… fortunately, this means everyone also stayed dry and avoided the downpours that arrived on Tuesday Evening.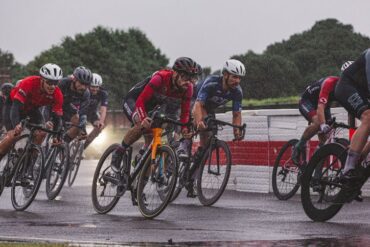 RCR FatCreations Goodwood Series Rd.1
The first of three rounds of the RCR FatCreations Goodwood Series can only be described as a wet affair… Torrential rain started falling about 30 minutes before the start of the Regional C+ Cat2/3 race and the rain didn't stop all evening. Phill Brown was again the only NFCC rider on the start list from all three races on the evening and despite a face full of tyre spray, managed to hold his own in the bunch with a few efforts to help keep the pace up. Despite his best efforts and being in a great position coming into the final chicane ready for the drag to the line, a rider ahead of Brown managed to find the limit to his traction and ended up with an unscheduled sit down in the middle of the bunch – leaving no option for the NFCC rider than to take to the grass to avoid any incident. Brown kept it upright and crossed the line 36th out of 43 riders who finished the race as the 17th Cat3 rider.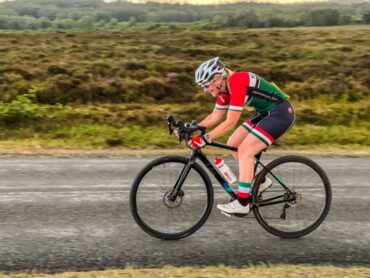 SDWCA 10m TT
Yet another visit to P164, this time on a Wednesday evening, saw no fewer than 7 NFCC riders lining up for the South District Women's Cycling Association open 10 time trial. Find out how they got on by CLICKING HERE
Thursday evening Chain Gang
6 made the start again this Thursday for the weekly visit to the pain amplifier, or chain gang as it's traditionally know. The whole group stayed together until the approach to Burley when inexplicably, on only his eighth training session of the day Mark C developed a cramp and had to drop out. Rupert made it a little further and then 4 remained to fight it out for the top spots. Things were hotting up into a head wind after Burley when we had to hit the brakes a few times for tourists and Ponies, ruining our rhythm and average speed. Phil H managed to drag the others down to his level on Wilverley Rise so managed to maintain contact and all four, Elliot.T, James.N, Jay.T and Phil.H hammered the final few wind-assisted miles back to base. Great fun in a horrible way as always.
Note to all chain gangers; for July the start time moves to 1900.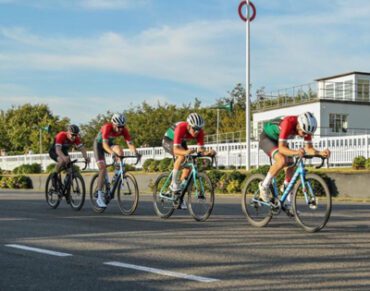 Goodwood Summer Series Finale: TTT
The finale of the Goodwood Summer Series is an annual team time trial on the closed circuit – teams of four riders with the third fastest rider over the line counting as the team's time. Ben George, Ben Schooling, Chris Harris, and Ted Ward teamed up to make a formidable team for New Forest Cycling Club. With only one training session between them as a 4-up, the riders held their own in a stacked field of high-quality racers and finished in a very respectable 51:34.83, averaging over 27.5mph.
Sunday Club Ride
Once again, Sunday's faithful were rewarded for their devotion with a soaking wet start. Light rain was forecast as 24% possible and so we set forth into yet another balmy tempest. Approximately 12 made the start and with unusually quiet roads we set off in one tightly knit group. Having arrived just in the nick of time John B joined us on what turned out to be 20mm tyres pumped so high that they could and should have been carrying nuclear warning signs on the rims. When one of them inevitably blew after 10 minutes the shock waves caused panic at The British geological society h.q and the sheer volume provided a useful health check for everyone's hearts.
We left John with Bill to their own devices and carried on at a brisk pace around the Ipley cross triangle (everyone seemed happy with that), picking John and Bill back up at Beaulieu on our return. Jane.H + 1 suddenly appeared from nowhere so we were now up to 14. Weather by now was much more pleasant and so the waterproofs came off and we headed around the second leg of the ride and back to Setley Ridge for vittles and the sudden arrival of some sunshine.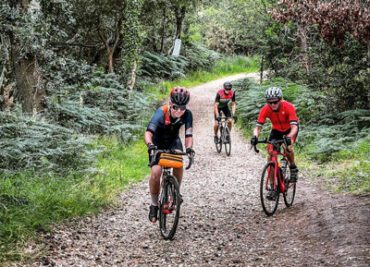 Sunseeker's and Moonraker's 300km Audax
NFCC Endurance Captain Phil Grant led a swift team of four around the Audax Club Bristol's Sunseeker's and Moonraker's 300km audax. A day filled with spills, hills and showers… find out how they got on by CLICKING HERE
Get Involved:
If you find yourself out and about representing NFCC, don't forget to jot down a few words, snap a few photos and send them over to press@newforestcc.co.uk.