Weekend Round-up: 19/20 March 2022
PhillBrown
The usual Saturday and Sunday endurance rides had a great turnout this weekend thanks to the first real signs of Spring – blue sky and sunshine seems to be all you need to get half the Club out on two wheels. A pair of competitive NFCC Members were also out and about showing off their skills, with races that couldn't be more opposite. The Sandisons 2-Day/3-Stage Road Race, based around Blanford, enjoyed a stacked field of strong riders including NFCC's Chris Sanders, while Catherine Pascoe opted for her mountain bike for a dusty day out at Gorrik: Firmley XC event.
First up, an overview of the Endurance Rides from Barry:
At last, some sunny weather for the endurance rides and despite a stiff easterly wind a strong turnout on both days.
Saturday was a 96Km route that took in the north of the region. A total of 22 riders were at the start so we split into three pelotons (good decision Joe) and headed off at 1 minute intervals to make us easier to pass for other forest road users. The route took us up over Bolderwood where Bill unfortunately picked up a puncture and group 3 stopped just after Milkham whilst Bill repaired his tyre in good time. We then headed out of the forest at Harbridge and were treated to a good number of Lapwing on the flood plain there and some of them displaying their spectacular flight. We continued north to Whitsbury and then back down to Braemore for another circuit around Redlynch.
The three groups then met at the ever popular Potting Shed in Hyde where the food, coffee and service were all up to their usual excellent standard. Keeping on the twitching theme we were treated to a Goshawk overhead whilst having coffee which against the clear blue sky which was another special sight.
After refreshments we headed back to Brockenhurst via Ogdens, Crow and Burley. The last leg was into a very strong headwind and big thanks to Chris who did some mighty turns into that wind and bought one of the groups home. Nice to be out in the sunny weather and good to see some summer shorts that had not seen the light of day for several months.
Sunday was another good turnout with 18 riders making the start, so we split into two groups and headed up Bolderwood, across Ocknell's Plain, Bramble Hill, Furzley, Bramshaw and back the same route. We were aware that there was a Time Trial in the area but only saw a couple of riders and thankfully were not in the way of any riders needing to pass. We were lucky to see a splendid pig and her litter in Furzley Lane. We then made our way back to Brock and some made the usual coffee stop at Setley Ridge post ride.
Catherine's off-road report:
Today's Gorrick mountain bike race at Frimley, the second of the two Spring Classics that are held annually was somewhat under-supported compared to the first round. I was the only Grand Vet woman and therefore got to stand on the top step of the podium, albeit all by myself. The other women's fields were pretty small too and there were also fewer men racing in their categories. However, the course was dry and really good fun, consisting of plenty of short rooty punchy climbs and descents, berms, drops, and lots of twisting through the pine trees. It was basically a big bike playground.
I probably would have won numpty of the day on the practice lap if anybody had actually witnessed me doing one of those silly sideways tumbles off a basically stationary bike, as I lost my balance at the top of a hill and managed to roll head over heels halfway down like an idiot. More painful bruises to add to the list.
Chris' Stage Race Report:
The weekend of the 19th-20th March saw my first stage race of the 2022 season. The event consisted of a 1-mile Hill Climb and a 10-mile Individual Time Trial on Saturday, finishing with a 55-mile hilly Road Race on Sunday. Preparations for this event had started two weeks prior with a recce of the courses with fellow NFCC Members: Phill Brown, Joe Shepherd and Charlie Hill.
The Saturday was my first chance to really test my individual capabilities across a variety of gruelling disciplines, competing against some of the strongest local teams, such as Primera Team Sports, Nopinz Motip and Brother LDN. I had a solid start coming in 31 out of the 60 riders on the Hill Climb. Even managed to get a second look at my fuelling at the top of the hill after the adrenaline and lactic acid took effect.
With 4 hours to recover and refuel, I hit the TT knowing that it was going to really suit the heavier, power-crunching riders and I needed to really give it my all to avoid dropping right down the General Classification (GC). The 10-mile hilly route was gruelling but I came in 43rd, which was really as good as I could expect. A mistake on the first big corner probably cost me an extra place.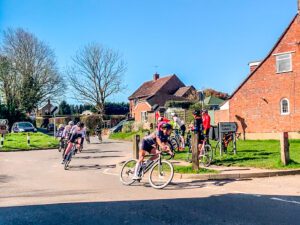 After eating my weight in carbs and trying to get as many hours of sleep as possible on Saturday night, Sunday morning saw the 55mile Road Race start with a bang. Averaging 350w in the first 2 minutes and 300 watts in the first 5, in what was meant to be a 'neutralised' start set the tone for what was going to be a max effort. A massive solo effort off the start from one rider meant the peloton was ripped apart and splits immediately formed. 10 riders were dropped from the race in the first 2 laps in and I found myself in the chasing group with 4 others where we worked hard together to stay in the race. More and more riders were being dropped from the lead bunch and we would pick up the ones who hadn't emptied the tank too much, with about 12 of us riding together for another 35 or so miles in a chain gang effort.
On the final lap, there was a lot of juggling for position and I chose the steep descent before a nasty corner to pounce my attack, breaking away with 4 other riders. We were closed down again with 1km to go, but found enough legs to sprint for the line and take home 31st place. My final GC position over the three events was 29th and I can take a lot of positives from the weekend's racing. The next stop for me is the E/1/2 Crit series in Portsmouth where I will be hoping to continue to grow my form and move on from strength to strength. Big thank you to Phill Brown and Maddie Verdegaal who cycled the 140km+ round trip to come to support me from the roadside and give me those extra percent when all was hurting.
Don't forget to jot down a few words, snap a few photos and send them over to press@newforestcc.co.ukif you find yourself out representing the Club.