Race Report: EUCC x LeCol Early Season Crit
PhillBrown
Swapping the usual Saturday Club Ride for road trip to Exeter to ride around in circles in the wind at a driver training centre doesn't sound like fun for everyone, but Phill Brown was convinced it would be a good idea and decided to enter his first ever race. In his own words: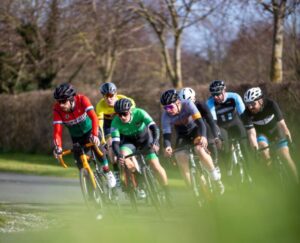 "Something strange happened on Saturday… With a number attached to my back, I crossed a start line, road around in circles for a little while with a bunch of speed demons before managing to escape off the front with six laps to go to cross the finish line. Race number one, win number one.
The pace was relatable to the end of the Thursday Night Chain Gang sessions from last summer… Throw in a technical course with a series of tight 90 degree bends, a small incline and windy conditions, it was set to be an interesting ride from the start. Having never been on this kind of start line, I did the honest thing and started right at the back… So far back in fact, I can't even be seen in the photos.
The first few laps were controlled and reasonably calm, I took my time to work through to the front of the pack and slowly assisted in increasing the pace before attacking off the front to see who reacted… Nobody. Scratch that one then, I sat up and waited for the strung out pack to reabsorb me, slotting back in fourth or fifth wheel.
With other riders in the pack also taking part in their first race, the safest place was to be at the front, where I found myself for more laps that I can remember. Various other attacks were made over the next half an hour of racing but I always found myself on the front, preventing them from getting away – not only did this keep things together, but whittled the leading pack down to the six or seven strongest riders.
I noticed a dead-spot in the pace at the same point on every lap and after 37mins of racing, I took an opportunity to accelerate at that exact point and found a few meters of space behind me leading into the series of tight turns. Head down… Game on.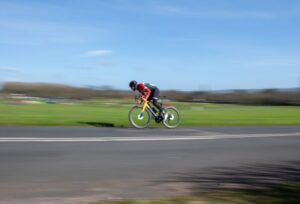 After a complete lap at full gas, the space behind had stretched and the Commissaries put out the 5 laps to go board – I knew at this point it was an all out sprint to the finish line. Lap after lap I could see the space behind growing until hearing the bell, when I knew I had enough time and space to make sure I got around the final lap safely and make it to the finish line first.
An incredible experience to be able to take part in such an event and to get the opportunity for a solo breakaway victory was priceless. Certainly looking forward to the next one and I'd recommend everyone to give it a go."