Weekly Round-up: 14 May 2023
PhillBrown
All the latest news, events, and results from NFCC Members from this week's two-wheeled adventures…
NFCC Road Bike Series: P170/10
This week's time trial was cancelled due to lack of entries… with only a single pre-booked entry by 2pm, and at least 5 volunteers required to make the event happen safely, it was not economical to proceed.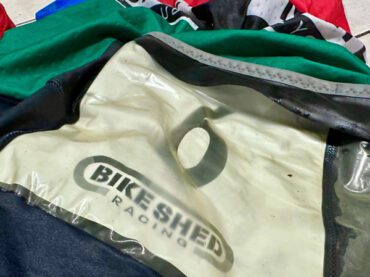 BikeShed Racing at Thruxton – Rescheduled Rd.2
Despite a dramatic thunder storm and torrential rain during the drive to he venue, Phill Brown still pinned on a number and got out on the race track at the rescheduled round two of the Pronto Bikes Behind The Bikeshed race series at Thruxton. Brown took the approach of "riding fast will keep you warm" so did his best to make and chase every break that happened throughout the race, and despite a big group of around 14 getting away, the peloton were once again too keen for a sprint finish so it was all together with two laps to go. The pace got frantic into the last few corners but Phill managed to rescue a bit of bad positioning and cross the line in 12th out of the 65 starters. Completing three of the four rounds in the series left Brown 28th overall out of a stacked field of 253 riders.
Thursday Evening Chain Gang
A less than ideal weather forecast left a grey cloud over a decision to cancel the Thursday Evening Chain Gang this week… The predicted terrible weather partnered with a yellow weather warning never quite materialised, but rider safety is paramount and riding in a tight bunch would have been unsafe if the conditions did arrive. Phill Grant organised an alternative "Rain Gang" on Zwift but it was a two-up race with just Phil and Jay T in attendance.
TLI Moreton Series: Rd.2
Despite writing "Better luck next time…" in last weeks report of the first round in the series, it seems taking your winter bike to a road race wasn't the wisest choice Phill Brown could have made for round 2 of the Moreton Series. Starting the race in the scratch group with only five others, it was a big ask to chase down a group of 25 up the road with a 90 second advantage from the start. Brown was the second from the group to get dropped after four laps at over 42km/h, but he kept on pedalling and crossed the line at the end of the race, resisting the urge to sit up and watch from the side of the road like the others. Are we tempting fate by writing better luck next time again?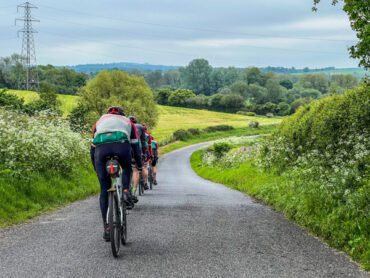 Saturday Club Ride
A bumper turnout this week for a ride to Over Wallop and back. About 20 riders set off from Brockenhurst in two pelotons heading north for a hilly 116Km route. We soon picked up another 4 or 5 riders, Barry lost count, so split into 3 smaller groups. Ray kindly re-plotted a section where Barry had made a route error taking the groups through a ford near West Wellow, but it seems the group Ray was in at the front still managed to traverse the sketchy lanes. We had to deal with a northerly headwind for virtually all of the 58Km to the Army Museum of Flying for the mid ride coffee stop so thanks to everybody who did turns on the front on the outward leg. After the mid ride stop, we were rewarded with tailwinds back to Brock which was a lot easier than the outward journey.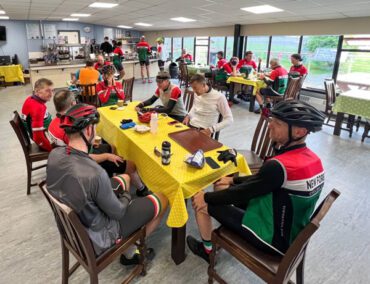 As usual, 116Km was not enough for some of the Club's mileage monsters and many rounded it up to 100 miles plus, so extra kudos to those. More importantly, who's in the barrel this week? It's a full house from the first group on the road getting all the special mentions… First up is Robert who forgot how to use a bottle cage and preferred to leave his hydration on the road for other Members of the group to collect instead. Another for Mark who forgot what his brakes were for and decided riding into a hedge while politely asking club-mates to get out of his way was a preferred way of stopping. Finally, a special mention to Jay who couldn't work out why his bike felt strange, until he was politely informed that wheel spokes should be connected at both ends, not just on the rim side, leaving him limping all the way home with a very wobbly back wheel.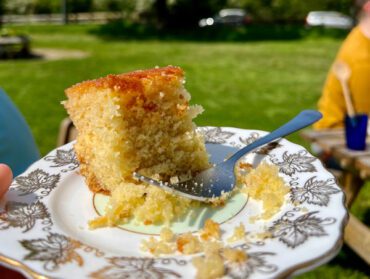 Sunday Club Ride
The promise of blue skies and warm weather ensured another great turnout on this weeks Sunday club ride. Therefore we split loosely into two groups and mosied out in cold cloudy conditions towards the Wild West of the New Forest. At some stage the groups seemed to merge and then divide again like Bison on the open plain, one rider somehow getting lost, never to be seen again, lost to the wilderness. One group was forced to make a significant detour after being blockaded by a massive herd of cattle and an electric fence casually spread across the road. Apparently barricading streets with death-wires is a perfectly reasonable thing to do if you are a homesteader round these parts. The second group somehow missed the deadly round-up and sneaked ahead but once caught we re-grouped and rode past the flesh pots of Burley towards Wilverley Plain where Phil H's steed suddenly forced a dismount following a major saddle malfunction. His seatpost clamp sheared in what some might say was an unnecessarily harsh act of passive aggression regarding Phil's winter weight-loss programme. After liberal use of cable ties we eventually made it to everyone's favourite watering hole at Setley Ridge for a well earned cup of Joe in what was now glorious sunshine.
Get Involved:
If you find yourself out and about representing NFCC, don't forget to jot down a few words, snap a few photos and send them over to press@newforestcc.co.uk.