Weekly Round-up: 31 July 2022
PhillBrown
All the latest news, events, and results from NFCC Members from this weeks two-wheeled adventures…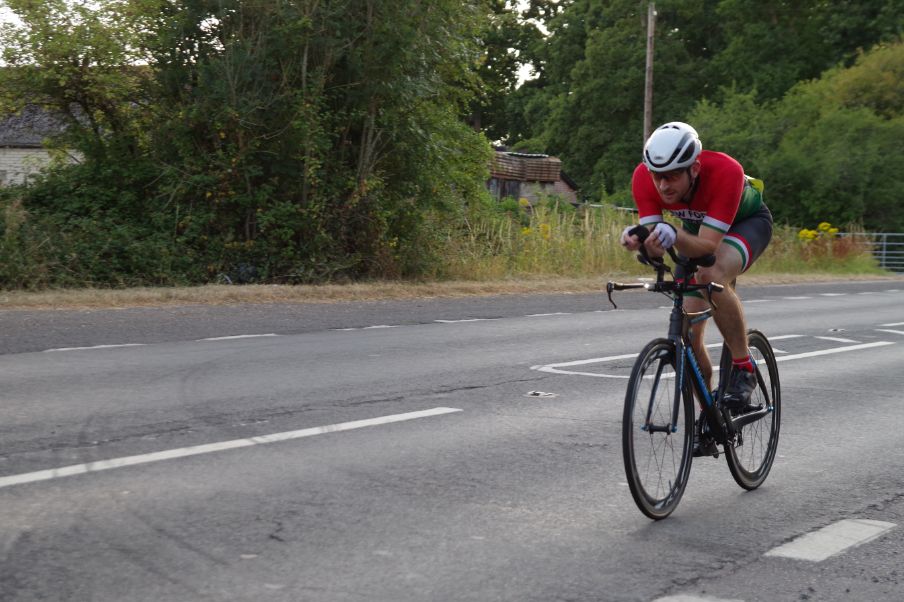 Tuesday Evening Time Trial
The second course record of the season was broken this week with Henry Lloyd-Williams dipping under the twenty-one minute barrier on P128, only for Paul Lockyer to take an extra few seconds off him just minutes later! Find a repost, results and images by CLICKING HERE.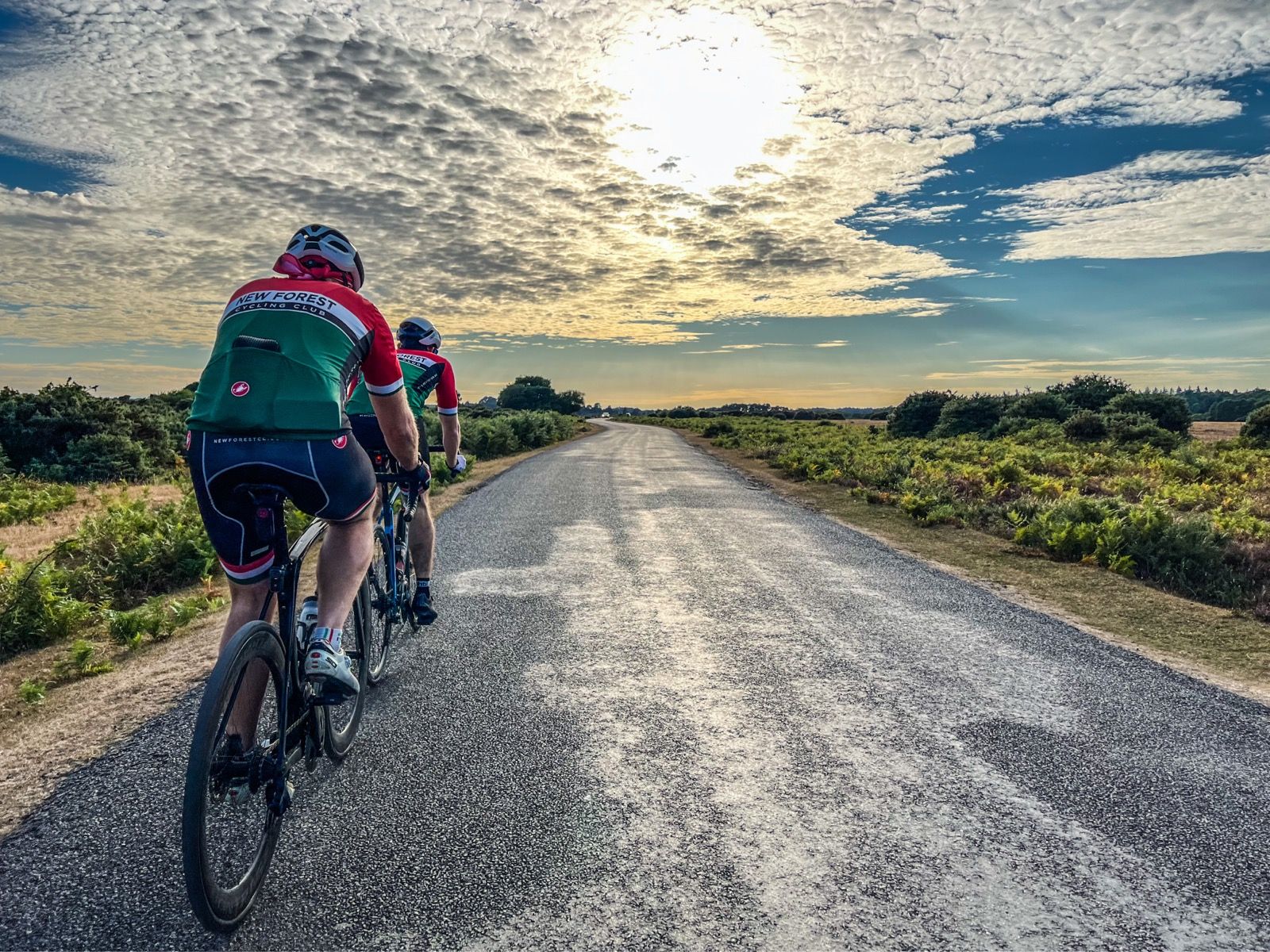 Thursday Evening Chain Gang
Only a trio of riders made it out for this weeks Chain Gang on the original Burley loop with Barry, James and Phil having more of a fast-paced rider together rather than a specific chain gang training session. Looking forward to next weeks session, it would be great to get the numbers back to the old times to benefit from this valuable training.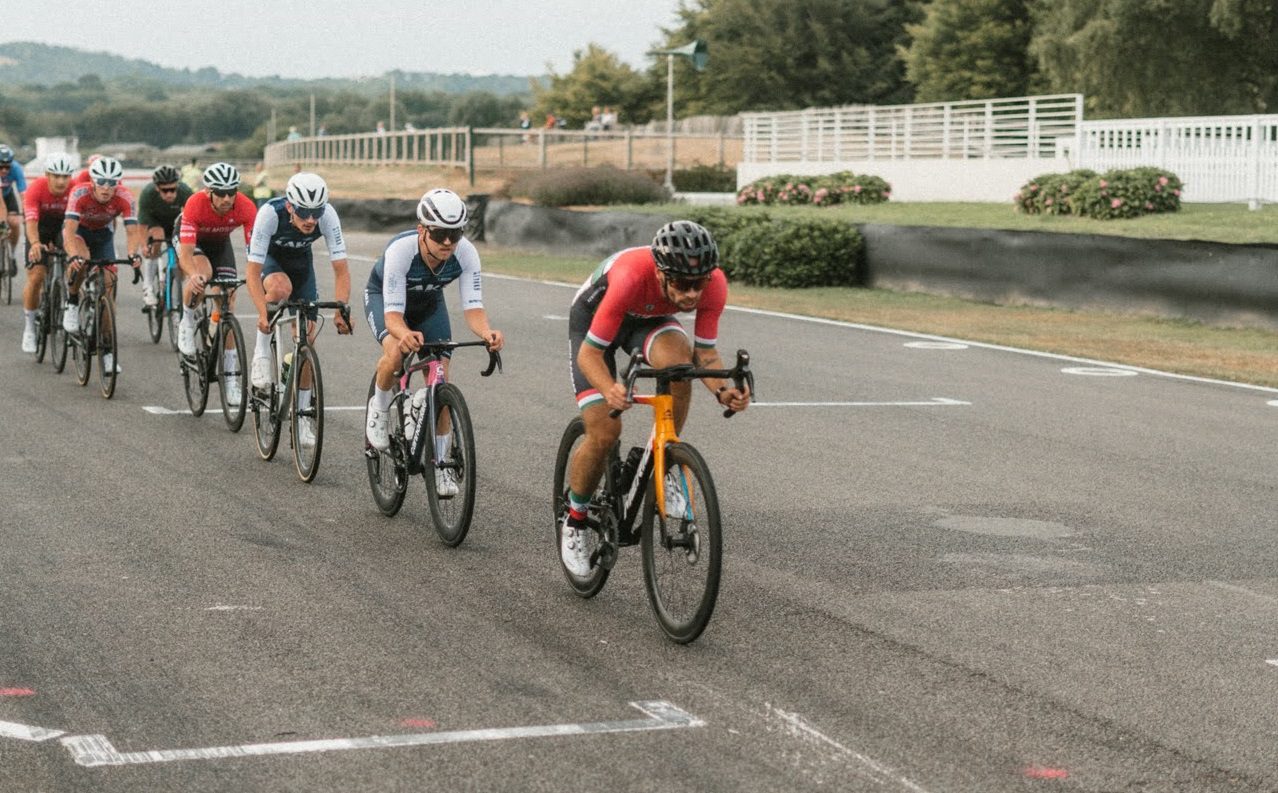 RCR FatCreations Goodwood Handicap
Following a successful few weeks at Goodwood for the RCR FatCreations Summer Series, Seb Otley hosted one final event to round off the series – a 15 lap handicap with all riders from Cat.4 to Elite in the same race… first to the line wins! Phill Brown made the journey to the track for the race and enjoyed an excellent evening of racing, putting in a decent shift to try and help the Cat.3 bunch stay away from the E/1/2 chasing pack, but the inevitable catch happened with four laps to go. Seeing an opportunity to ride with more experienced riders, Brown jumped into a 4-man breakaway who held their own for a short while before getting reeled in by the near 100-strong peloton with a lap and a half to go. With the pack slowing over the line for the penultimate time, Brown launched another attack, clearing the pack solo but despite his best time-trial like effort, he was soon reeled in again and rolled home in the bunch.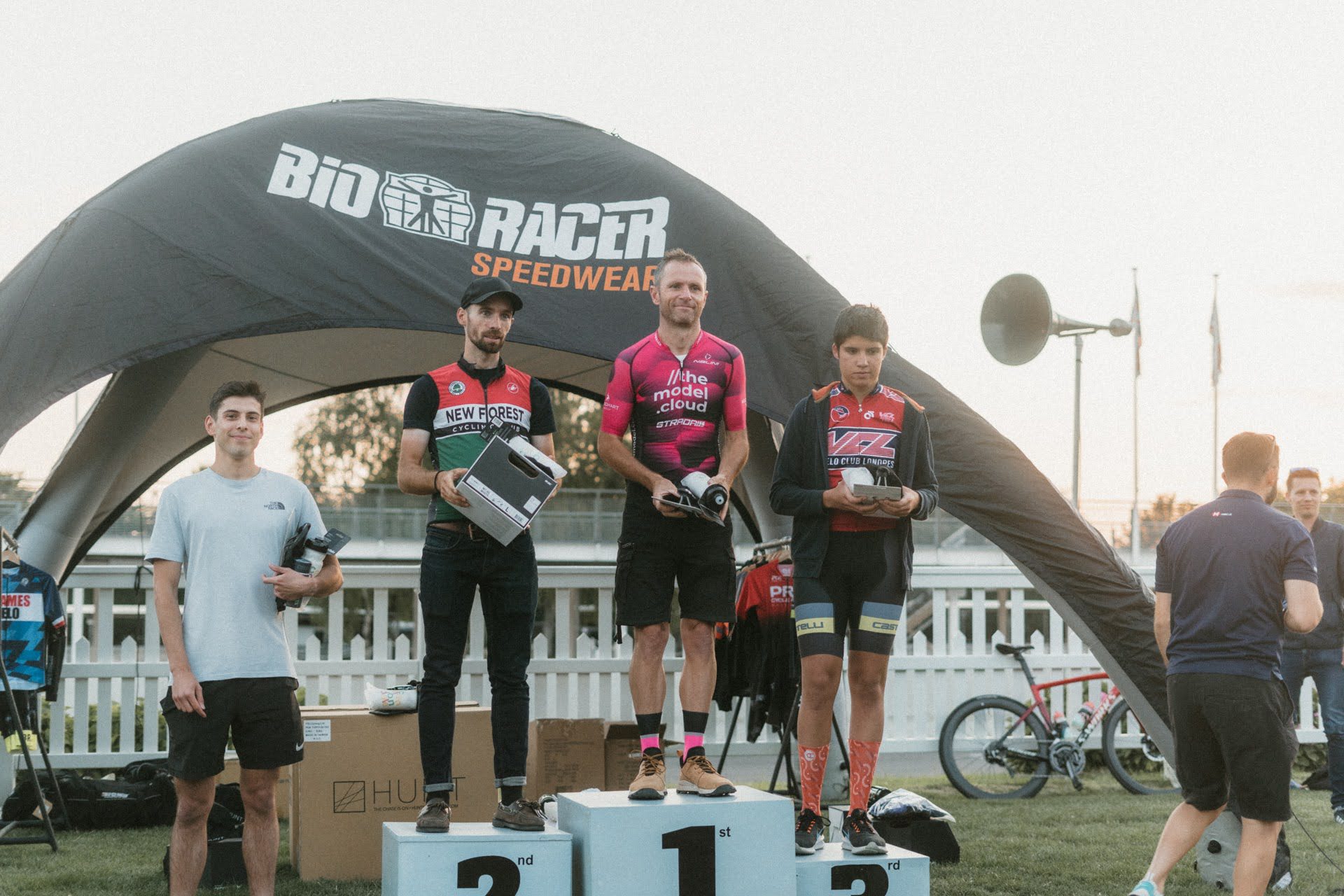 With endless pizza, drinks, and camaraderie, the evening also played host to the prize giving for the overall RCR FatCreations Summer Series where Brown managed to clinch second overall in the cat.3 series with 3rd/12th/1st finishing only a few points off first. A big thanks to Seb and the volunteers for an excellent few weeks of racing – looking forward to next year!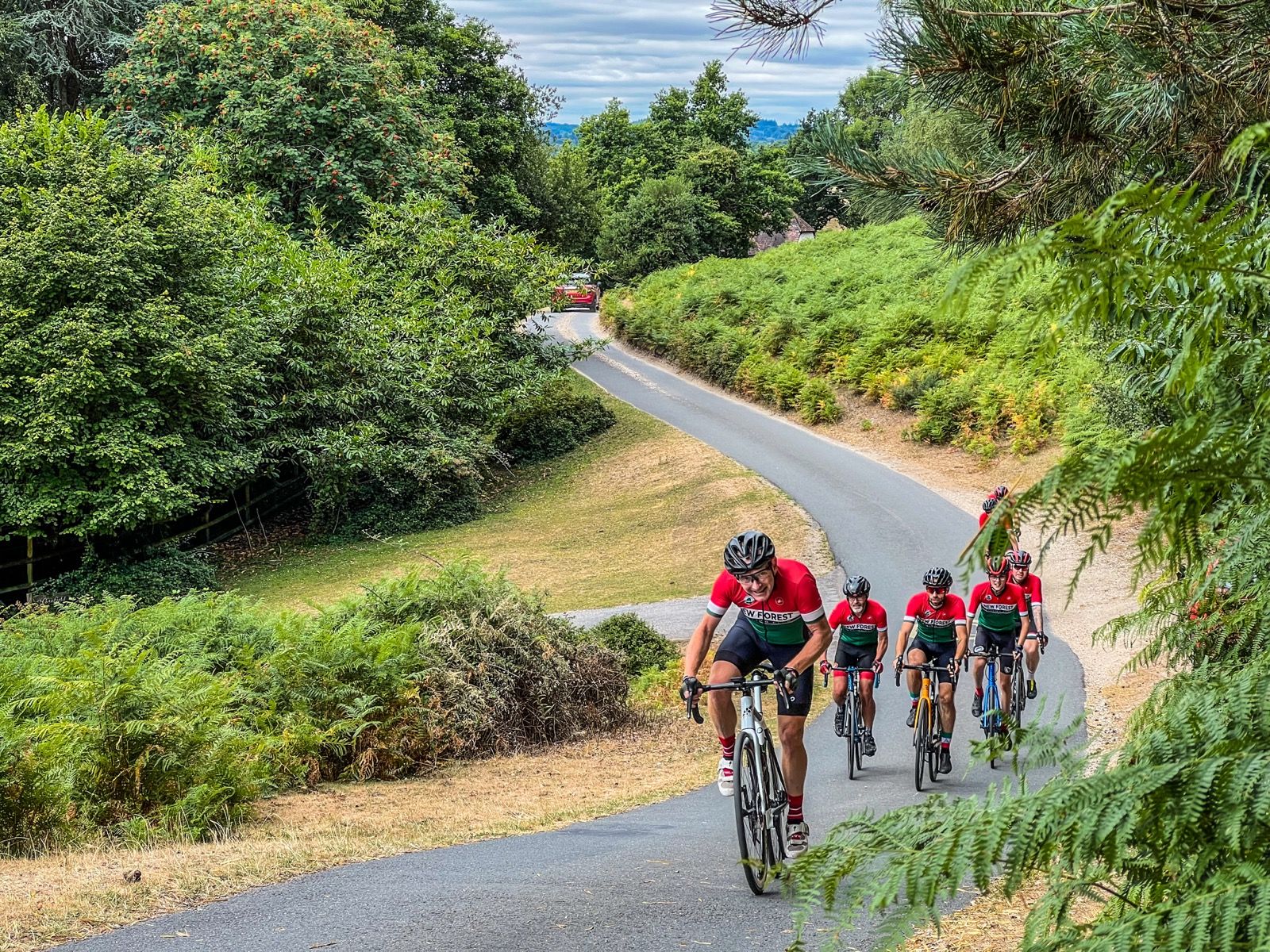 Saturday Club Ride
Another lengthy Saturday Club Ride this week with a sprinkling of hills throughout the route could only mean one thing… Barry was away. Leaving Brock for a small loop of the lanes south of Brockenhurst before heading to Burley and Beyond. Despite a number of regulars being away, a decent number of riders meant the group split into two before leaving for safety reasons. Heading through Ringwood and past Moyles Court, Riders enjoyed a few quiet back lanes through Ibsley, Alderholt and Sandleheath with a number of small punchy climbs throughout. The climb to Woodgreen saw the front group fracture slightly but gathering themselves at the top and the appearance of Mr Parker only meant one thing – we were within 20km of a cafe stop! A quick ascent through Franchises Wood and around the Lookout Loop (pictured) before summiting at The Fighting Cocks, there was only one thing on the minds of everyone in the group – coffee! Refreshments at The Potting Shed left the groups to whittle down slowy as riders peeled off to head home, but an enjoyable day was had by all on an excellent near-130km route – cheers Barry!.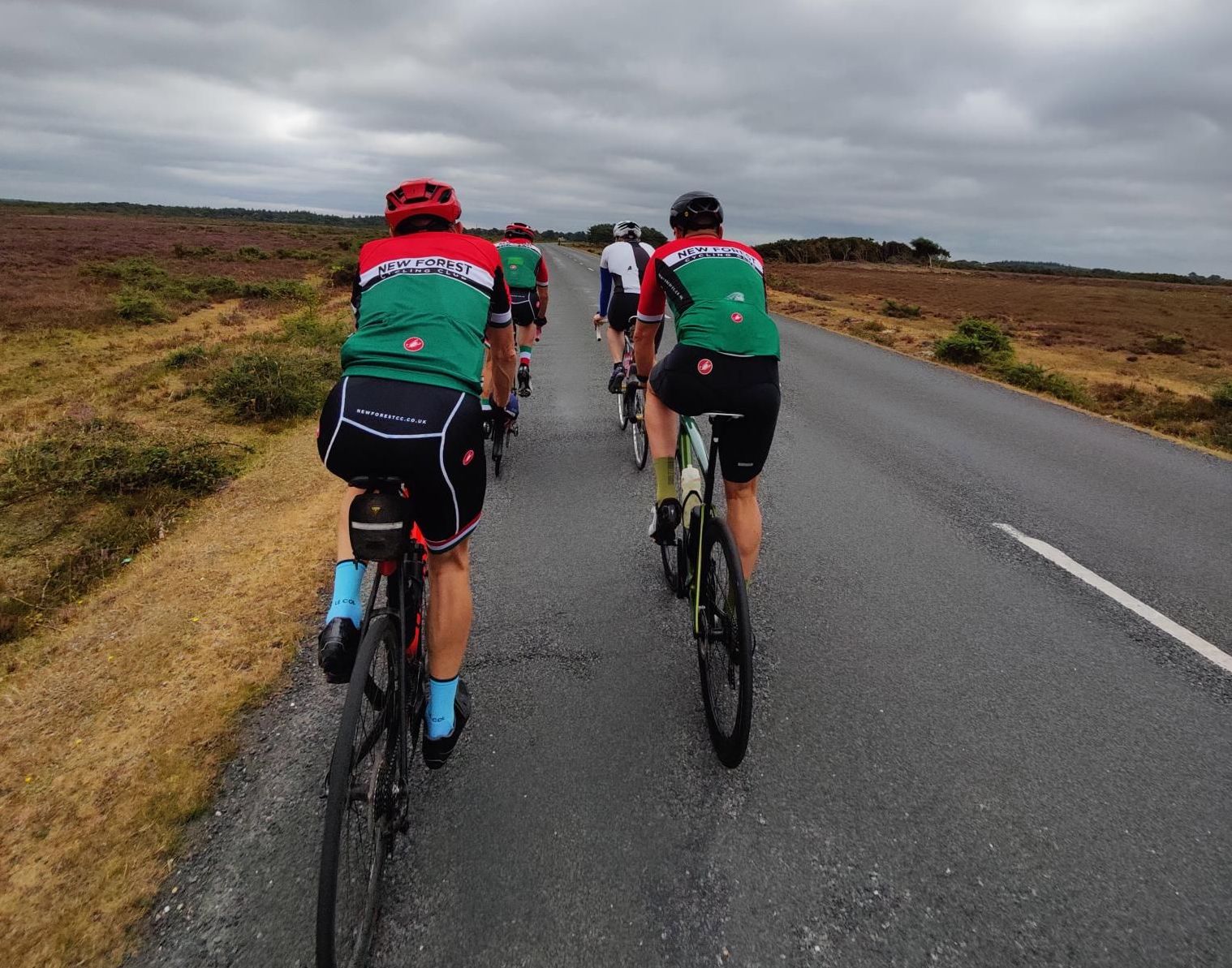 Sunday Club Ride
Another of the Sunday favourites this week but in the reverse direction with riders heading out from Brockenhurt assisted by a tailwind to Beaulieu, and on to Ashurst and Bartley for the first leg of the ride. Cutting back across the Forest via Minstead, riders had to tackle the never ending slopes of Emery Down before a jolly descent of Bolderwood and Rhinefield, back into Brock with a plan to meet the off-roaders at The Terrace for post-ride vittles.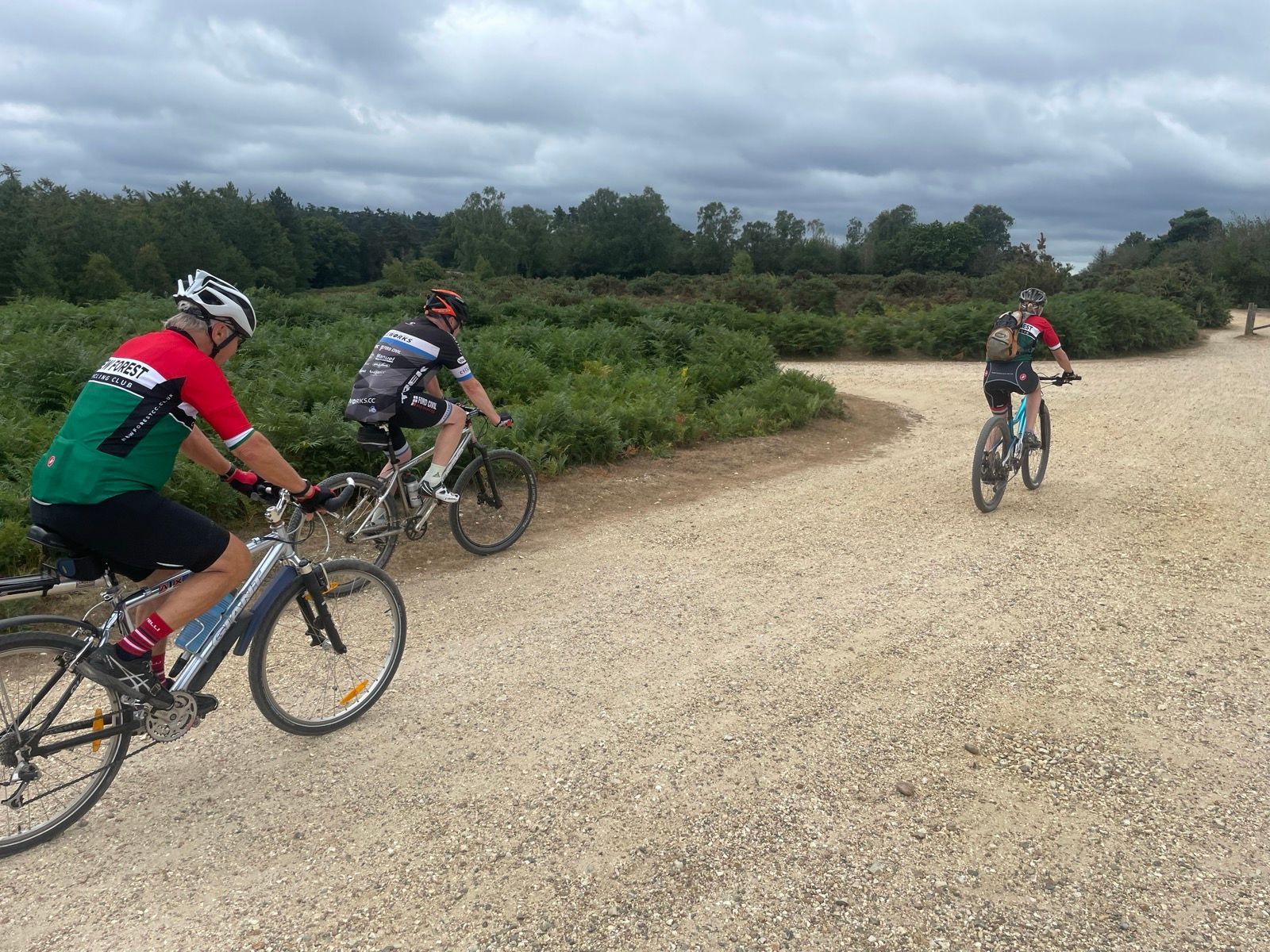 Sunday Off-road Social Ride
Four riders set off on the off road ride from Brockenhurst on Sunday 31st July, heading to St Nicholas's church and into Roydon Woods for a few miles of bridlepath riding through the woods and on to Dilton Farm and the old airfield at Roundhill campsite. Passing the old bomb store at Hawkhill, the route followed gravel tracks north-east to Lyndhurst. A short section of main road took the riders onto the tarmac lane to Bank then over a grassy hill to Emery Down, before getting back onto tarmac to Millyford Bridge. From Millyford Bridge it was gravel tracks all the way to the Canadian War Memorial, then down past the Deer Sanctuary to Burley Rails Cottage. The route then headed through Anderwood and Knightwood and onto the tarmac again for a short section on Bolderwood Drive. Once over the A35, the riders took the gravel track south past the Arboretum to the Rhinefield House Hotel, with a short bit of tarmac to contend with before going off road again at Fletchers Hill. Matt Knight hoped for a splash through the ford at Fletchers Water but it was bone dry. Then it was gravel most of the way back to Brockenhurst via New Park, Ober Corner and North Weirs. Coffee and cake and a sit down at The Terrace had started to be mentioned with about 6 miles to go, so the riders were relieved to finally stop after a 30 mile ride. All four riders had ridden out to Brockenhurst and rode home mostly off road after refuelling at The Terrace, so it was quite a high mileage off road day for all.
Get Involved:
If you find yourself out and about representing NFCC, don't forget to jot down a few words, snap a few photos and send them over to press@newforestcc.co.uk.