Weekly Round-up: 12 Nov 2023
PhillBrown
All the latest news, events, and results from NFCC Members from this week's two-wheeled adventures…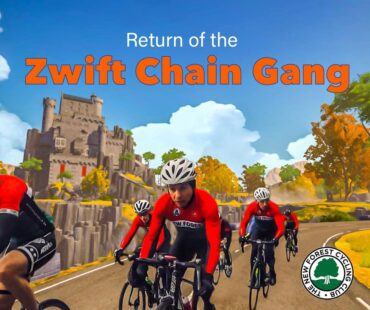 NFCC Virtual ChainGang
It's back! Thursday evening's at 1900. Same format as last year, a fast virtual group ride where the pace progressively builds until the finish line. We'll start at sub 175 watts, increasing the pain every few km. The route will change each week. Event can be found under the NFCC Zwift club page on the Companion app.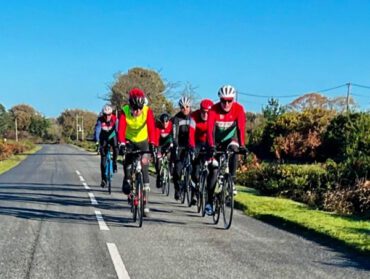 Saturday Club Ride
After the recent wet rides, we were blessed with a very pleasant but cool day for this week's club ride. Bib tights were the order of the day, and this was the first ride of the year with no bare legs on show. There was also a 100% mudguard compliance rate which was excellent and appreciated by all. Nine riders made the start, so it was a one group ride. We were joined by Gareth for the first time on a Saturday. This was especially useful as Gareth bought his e-bike which was a first for the Saturday ride, so it was interesting to see how it worked. Thanks to Gareth's skill and limited use of the assistance it worked well and I'm sure we will see many more in the future. The group headed east, and all was going well until Exbury where Barry punctured. Luckily a dose of tubeless sealant fixed the issue, and we were soon on our way. The ride dropped to eight as Reece peeled off, but we were joined by Richard just before the coffee stop. This was no coincidence as Richard's motto is "a ride without coffee and cake – what's the point".

The ride continued to the coffee stop at Steff's in Beaulieu. Just as we were about to leave Graham shouted that he had lost a glove. We were not sure whether he left one in the shop when he paid or had both on one hand given his asymmetric short padding episode the other week, but we were soon on our way. On the subject of Graham "got dressed in the dark" Fletcher he decided that what the club kit needs with its expertly chosen colour palette was a load of navy blue to compliment the red, white, green and black. This has caused the requirement for a new committee post that will be announced soon. This will be known as "Graham's Groom" and the job will entail going round to Poulner at 0800 on Saturdays and get him dressed smartly!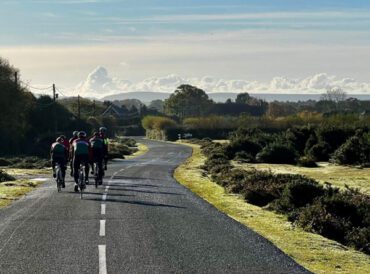 The ride continued at a steady pace for a 96Km route back to Brockenhurst through some very nice autumnal scenes along Lyndhurst Road and Rhinefield Road. Regular readers of this weekly drivel are probably wondering why nobody is in the barrel yet. Certainly, none of the ten riders on this week's ride who were exemplary. We might need a bigger barrel this week, but the award goes to all those that stayed in bed just because the mercury was in single figures. Shame on you!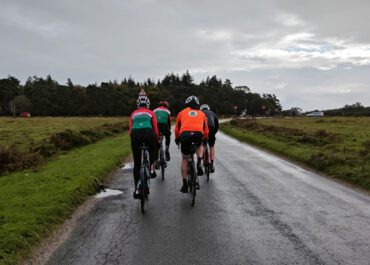 Sunday Club Ride
Just 5 of us set off for the ride this week, you could call us famous or infamous but we were all stalwart Sunday members. Autumn was well evident with a great variety of leaf colours and the wind was quite kind for the time of year. John is back to fitness and led us round then turned for home instead of coffee. Setley Ridge was quiet so service was even quicker than usual and the chat about posh nosh made our mouths water. Pictures courtesy of Luke who was the only one quick enough get ahead to take any!
Get Involved:
If you find yourself out and about representing NFCC, don't forget to jot down a few words, snap a few photos and send them over to press@newforestcc.co.uk.