Weekly Round-up: 30 Apr 2023
PhillBrown
All the latest news, events, and results from NFCC Members from this week's two-wheeled adventures…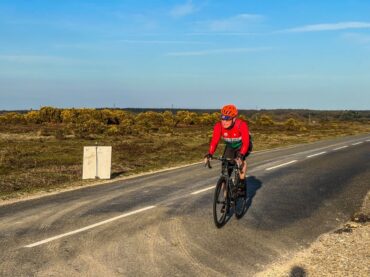 NFCC 15 Challenge Aggregate: R1 P164/15
Round one of the NFCC 15 Challenge Aggregate for this week's Tuesday evening time trial… Find out more by CLICKING HERE.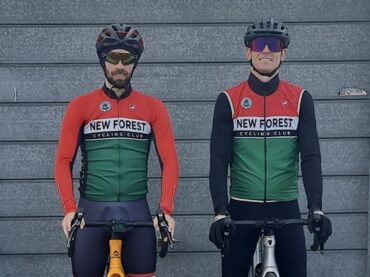 Behind The Bike Shed Racing Rd.4
Round four of the Behind The Bike Shed race series once again had two NFCC jerseys on the start line – Jay Tarrant and Phill Brown both taking part the Cat3/4 race. A full field of 70 riders on the start line made for a frantic race which ended up postponed halfway through to allow medical teams to assist a rider who had a unexpected meeting with the tarmac. Back to racing and the pace increased dramatically for the final few laps after the restart but both NFCC riders stayed in the main pack and fought their way to the line for the sprint finish. Brown finishing 15th and Tarrant 31st.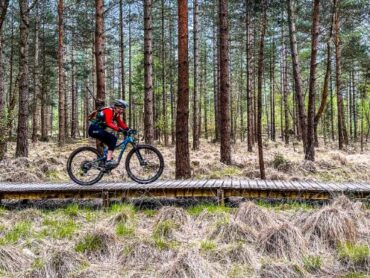 NFCC Off-raod Squad: Moors Valley
Wednesday night saw the first of Off-Road Captain Catherine's mid-week social off-road rides – this week taking in the single track route at Moors Valley. Seven riders enjoyed an evening of bouncing around on chunky tyres on the hard-packed gravel the course had to offer. Lots of fun was had by all and a huge thanks to Catherine for getting everyone together for something a little different… Looking forward to the next one on the 10th May at Avon Tyrrell.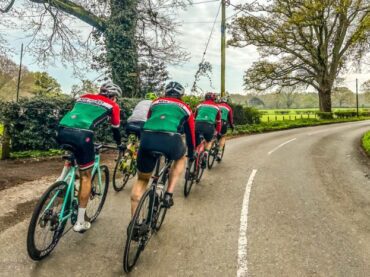 Saturday Club Ride
Thirteen riders turned up for a hilly 120Km club ride this week including some of the returnees from Girona anxious to show off their fitness and hill climbing prowess. Plus, we were joined by one of our regular guests Ben from the Bristol Road Club. Being a bank holiday weekend and with a sunny forecast the ride was planned to go north of the forest in search of quieter roads. The group was split into two small pelotons to make us easier to pass and set off with a plan to meet at the 80Km mark at the planned coffee stop at The Potting Shed. There was some dissent about how late the coffee stop was into the ride but the complainant was told to read the ride plan in advance and stop moaning. A club ride would not be a club ride without some material provided by the ever-generous Smithy. Once again, he turned up on his best bike with non-functioning disk brakes. Luckily, he did have new cleats that he could use for emergency braking. I can't say too much at this time as there may be an ongoing police investigation in the Ringwood area where his family are taking out life insurance policies and he's turning up with his brakes not working!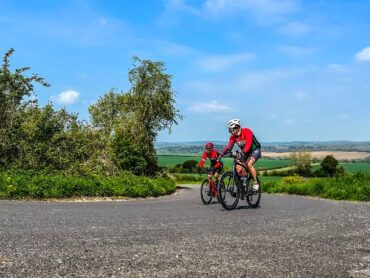 Another phenomenon of the Girona training camp was Phil J returning with some spectacular form, and actually doing some meaningful turns on the front and not just his usual token efforts near the end that did once earn him the moniker of Sector 1 (Roubaix reference for a sector of cobbles that is very short and makes no difference). Phil's efforts were so appreciated by the author that he's considering paying for Phil's training camp next year, so he comes back strong and starts doing more turns on the front. The two groups duly met up at the coffee stop as planned, some riders from group 1 sped off and a larger group 2 formed with the addition of Peter who had been out getting re-acquainted with the forest gravel tracks after his winter sojourn to Spain. The ride continued south and started shedding riders as they got close to home. We split the group again on Ringwood Road after Crow, Jay "Fenton" Tee was doing a sterling job on the front but as usual was straining at the leash. Like a Border Collie fed entirely on Red Bull and Haribo the restraint got too much when we got to Thorney Hill and he sped off the front towards Burley. So, this week it's Jay's turn in the barrel! The ever-diminishing group continued as a 4 up to Brockenhurst and ride end for a very pleasant and very warm ride. Kudos to Jay and Robert for rounding their rides up beyond the 100 mile mark.
Mallorca 312
Reports are coming in of a trio of NFCC riders having been out to Mallorca to ride the 312 – a gruelling 312km day in the saddle with 4,500m of climing! As soon as we have the write-ups in, we'll share them for your amusement… much easier to read other people's reports than have to spend that long riding your bike up mountains!
Congrats to all three of you for getting out there and giving it a crack!
Sunday Off-Road Ride
Only Robert joined Catherine for the first Sunday off-road ride of the year. With Robert less fit than he usually is, due to life somewhat getting in the way of his cycling recently, a steady pace was in order. The route took the two off-roaders along to Burley and up to the underpass at Picket Post before heading to the trails north of the A31. They headed back via Bolderwood, North Oakley and Anderwood, then on through Poundhill and New Park into Brockenhurst. Because the rain was looking a bit more serious at this point, coffee and cake was missed in favour of heading straight home.
The next ride will be on Sunday 28th May, weather permitting. It will be another bank holiday so the ride will head off to our East Dorset route to avoid the crowds. Details nearer the time.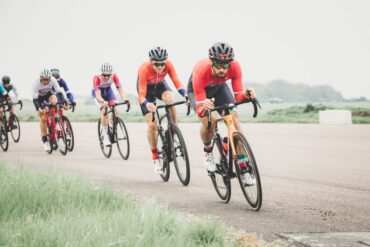 Swindon Wheelers Centenery Race Series: Rd.1
Phill Brown decided racing once a week wasn't enough so packed his bike into his van for a drive to RAF Lyneham near Swindon for the first round in a race series to celebrate the centenary of Swindon Wheelers Cycling Club. The christening of a brand new circuit to the cycling scene, the disused airfield – now a solar farm big enough to power 10,000 homes – presented a 7.4km circuit with only 25m of elevation change. Fast and flat was the order of the day and the bunch were far too keen to let any breaks get away. As always, Brown got stuck in at the pointy end and tried his luck a few times but it wasn't to be. Leading the bunch to catch the final escapee on the last lap, Brown found himself a wheel to follow into the final few corners and made up as many places as he could in the sprint to the line – finishing 10th. The organisers put out a warning in the race pack about punctures and boy did they arrive – 7 DNFs in the 3/4 race and even though he scraped the top 10, Phill also suffered with a puncture for the final few hundred meters.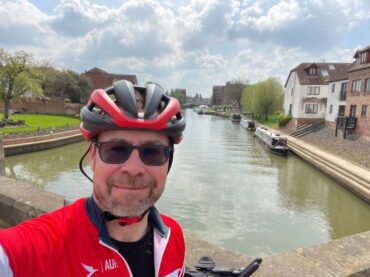 London-Wales-London Audax
Ray Claridge is making a name for himself with all these long-dinstance rides… This week, London to wales, and back! His report:
As I've entered PBP this year, there is a requirement to complete a SR series which is a 200k,300k,400k and 600k Audax. With the 200 & 300 completed next up was the 400k. I entered LWL (London-Wales-London) with a time limit of 27 hours to complete 400k. There are 3 compulsory controls with food provided, and a couple of locations where you need to obtain proof of passage i.e., till receipt. It was a 6am start with around 130 riders, with the route passing through the Chiltern Hills, Cotswolds, Forest of Dean, and up Symonds Yat Rock, into Wales (just)
across the Severn Bridge and back to London. It was a cracking day, with fine weather and good company. The first 330k went well but I did struggle beyond that with tiredness and fatigue, plus once the sun disappeared the temperature dropped with a low of 5c in the early hours. I was so glad I took my down jacket or I could have been in trouble, you really feel the cold more when your fatigued after hours on the bike. I finally rolled into the finish control just before 5am after 18 hrs of riding time and 22h:45m total time. Total milage 257. A bit later than I had planned but still 4 hrs within the time limit. Next up is a 600k in just 3 weeks across the flat Fens. Just hope it's not windy!
Get Involved:
If you find yourself out and about representing NFCC, don't forget to jot down a few words, snap a few photos and send them over to press@newforestcc.co.uk.