Weekly Round-up: 1 Oct 2023
PhillBrown
All the latest news, events, and results from NFCC Members from this week's two-wheeled adventures…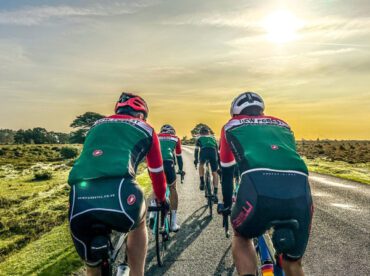 Saturday Club Ride
After recent excursions further afield, this week's club ride was kept within the forest. The 120Km route was made up of a number of loops taking in Sowley, Lepe, Minstead and Norleywood. After last weeks varied array of mechanical failures this week, we had Jay with a full complement of spokes and Smithy with a full range of gears. We also had Phil J with a sensible set of tyres for his new bike. He's gone from super soft race tyres that puncture every five miles to some rock hard ones that belonged on an Indonesian goat cart and has now found the goldilocks solution. The net result of a new bike and sensible tyres has resulted on him doing some heroic turns on the front so chapeau Phil J and commiserations to Smithy for loosing his hillclimb buddy from the back of the peloton. Eighteen riders made the start and set off in two pelotons. Pace was quite high in both groups, and we all met up for coffee at the community shop in Minstead as planned. As usual the volunteers were well prepared for our invasion and served us with great efficiency.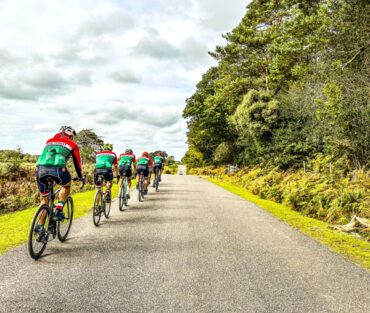 Like a bunch of fireworks that burn brightly for a short period and then fizzle out, the fast riders in group one largely burned out just before or after the coffee stop and made various excuses as to why they were cutting their ride short and only three riders from group one were left. The generous riders from group two took pity on them and allowed them to join the sensibly placed peloton. Some though and off was required heading into the wind towards Beaulieu and that was conducted well so kudos to all those in the group. The ride continued to Brockenhurst with the usual pattern of riders dropping off when they were close to home. With no mechanical incidents, clothing fails, or anything worthy of being placed in the barrel Barry was getting worried. Then with only 2Km to the end Graham sprang to the rescue with a chronic misunderstanding of traffic signs on the pinch points. He was excused as he's just back from France and is not familiar with British road signs yet!
Sunday Club Ride
With Phil H feigning lurgi so he didn't have to climb Piper's Wait, about 15 riders gathered at the start of the Sunday Club Ride in Brockenhurst. Setting off in 2 groups for the out and back ride, starting with the 'col de Bolderwood' to prepare us for the dreaded climb to follow. The lead group dispeered off into the distance early on, only to been seen leaving the coffee stop as the sensible group rolled in. Both groups dallied along enjoying the weather and scenery while taking care to avoid the wildlife! Sadly, we lost Bob J early who was recovering from injury – he insisted we continue without him. Best wishes for a quick return to fitness Bob and a speedy recovery for Phil H too. Meanwhile, Budge gave a free ride to a hornet who landed on the peak of his helmet at the Linwood junction and was still there at Setley Ridge!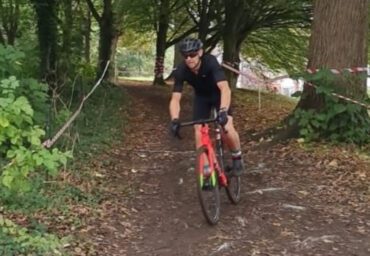 Wessex CX 23/24: Rd.4 – Reading
Cyclocross continues with the Wessex CX League 2023-24 season… Round 4 at Reading this weekend, find out more by CLICKING HERE.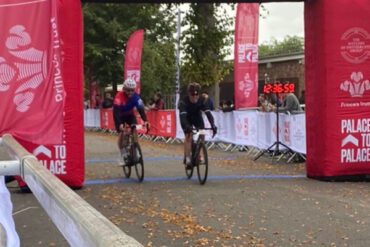 Palace to Palace 2023
Huge kuods this weekend to two NFCC regulars who completed the Palace to Palace ride in aid of Princes Trust. The 147km route took Tom Mayo and Stewart Hawkes on a round-about route from Buckingham Palace, through the rolling Surrey countryside, down The Long Walk, past the iconic Windsor Castle to a photo-finish moment at Windsor Racecourse.
Chapeau, boys!
Get Involved:
If you find yourself out and about representing NFCC, don't forget to jot down a few words, snap a few photos and send them over to press@newforestcc.co.uk.