Weekly Round-up: 8 Oct 2023
PhillBrown
All the latest news, events, and results from NFCC Members from this week's two-wheeled adventures…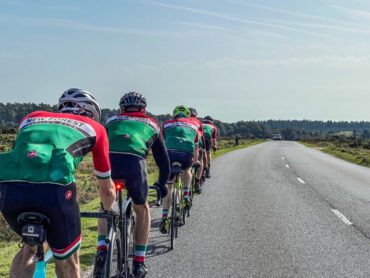 Saturday Club Ride
A beautiful day for a ride this week. Gilets and arm warmers were discarded at the start and short sleeves were the order of the day. Eighteen riders made the start and set off north in two pelotons. Planned route was 125Km around the forest. Not long into the ride as we ascended Bolderwood, Roger introduced a new mechanical fail to the clubs long and varied catalogue of mishaps. He performed a novel trifecta of bolts snapping on his bottle cage, the cage failing into his wheel and breaking a spoke and then the spoke slashing the sidewall of his tyre. This has set the bar high for artistic impression and given Phil H more material for the annual awards. Happily, Roger wasn't injured and was able to effect a roadside repair and ride home. But for this Roger takes his turn in the barrel this week. The numbers were made up to eighteen again as Paul C missed the start and time trialled his way to intercept the group. There was a large drift being prepared as we went across Ocknell's Plain but fortunately we were clear of that before the action started.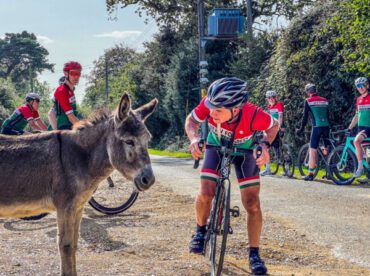 No more mechanical issues to report and the ride duly made its way to the planned rendezvous for mid ride coffee at The Potting Shed. The team at The Potting Shed coped brilliantly as usual with a large group of riders who were also joined by more riders meeting us there so there were twenty-two of us filling out the front of the café. This is more than we get for the annual re-election of the Politburo (AKA the AGM). As is becoming a habit, the group one riders tend to drop off at the coffee stop and only a hardcore keep the pace to the end. Always Robert and whoever can hold his wheel for the second half! The author thinks we need some form of cycling Viagra for group one, they seem to go hard for half the time and then they go soft halfway round and want to join group two.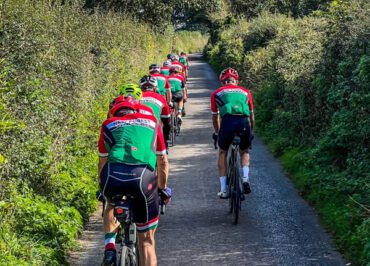 The main feature of this week's ride was Smithy's prowess on the hills. The author of this weekly waffle spends a lot of time with Matt in the grupetto going up the hills slowly at the back which is why he is such a rich source of material. But this week he unleashed his inner mountain goat. There were a number of cruel comments as he sped up Bolderwood from the pack about EPO on his cornflakes, did he have a motor fitted when his latest Di2 issues were fixed etc. Normally when he does this early on, he will die a thousand deaths on the hills later on but not this week. The truth will out eventually, this week we were missing Reece. The circumstantial evidence was that Smithy had had a blood transfusion with our eighteen year old flyer and was doped on super oxygenated young blood! Back to the ride, the post coffee shop expanded group two continued, was split into two groups for the Crow to Bransgore road and then it was the usual case of riders dropping off as they got close to home. A number of riders rounded up to 100 miles and more as it was such a nice day, and possibly the last chance for a summer ride.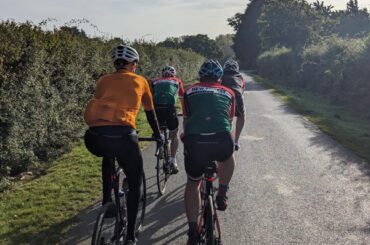 Sunday Club Ride
With Phil H still at home with his illness, a bunch of Sunday riders headed out into the forest for a cruise around the lanes of Sowley and the infamous Beaulieu Triangle – don't worry, everyone that started made it to the end – before heading to Setley Ridge for post-ride refreshments.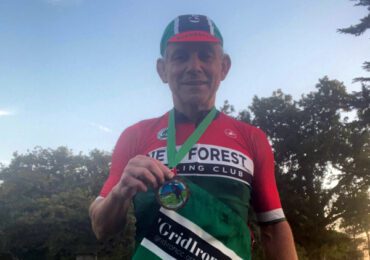 Gridiron 2023
Club Treasurer John Jackson has been awfully busy in his spare time working with a dedicated team to prepare and host what riders have reported as being the best Gridiron ever – the 100km round the forest route gained a 160km big brother this yearn and a number of NFCC jerseys were seen supporting the event in both distances.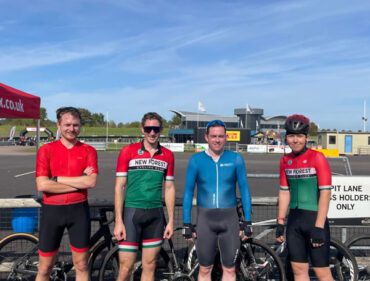 Thurxton TT Festival
With most open time trials wrapped up for the season, the Thruxton Closed Circuit TT event hosted a number of categories for riders to have one last hit out at riding around as fast as they possibly could. Again, a host of NFCC riders were spotted at the evnt with a 4-up team in the TTT event. Reece Dawson, Sam Dorkings, James Noah and Joe Kellett clocked an impressive 28:48 for 5 laps, and 24:37 at 10 miles. Chris Harris was part of another 4-up TTT for Precision Fuel & Hydration and crossed the line in 23:58. The Hards family were also in attendance. Bev and Ella did very well; Ella was first lady in the road-bike category in a time of 31.08 – this was only her second TT this year. Bev was second lady and only 5 seconds behind in a time of 31.13. She was also 1st V60 and 2 mins 30 faster than last year. Barry was second V60 in the time trial category with a time of 27.35 and went through the 10 mile marker in 23.35.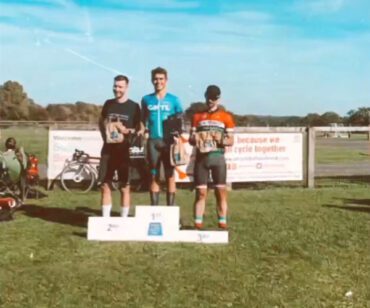 White Lake Cheese Autumn Trophy
The White Lake Cheese Autumn Trophy hosted by Team Tor 2000 Kalas was held under blue skies at the at Odd Down cycling circuit near Bath. Phill Brown was the only NFCC rider on the line and had a successful day out – clocking the fastest lap of the race meant additional spot prizes to go with finishing in 3rd place overall. A combative race covering 31.5km in only 41 minutes – an average speed of 43km/h – Brown held his own against the late season points chasing teams and managed to get in the right position in the last few corners to power his was through the bunch on the uphill drag to the line, securing his fourth 3rd place finish this year. The seven additional licence points for third place mean Phill has now gained his Cat2 racing licence, with a total of 44 points so far this season.
Get Involved:
If you find yourself out and about representing NFCC, don't forget to jot down a few words, snap a few photos and send them over to press@newforestcc.co.uk.