Weekly Round-up: 28 May 2023
PhillBrown
All the latest news, events, and results from NFCC Members from this week's two-wheeled adventures…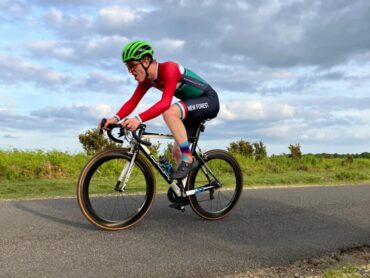 Road Bike TT: P182/10
The sun was shining and the skies were bright for what happened to be the first round of the NFCC Road Bikes Only Time Trial Series – find out how everyone got on by CLICKING HERE.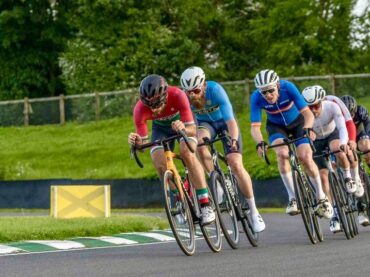 Goodwood Summer Series Rd. 4
Phill Brown and Jay Tarrant escaped the forest again for an evening riding around in circles at Goodwood Motor Racing Circuit in round four of the Goodwood Summer Series. Another big race with over 60 riders crossing the line in both the cat 3 and the cat 4 race. A frantic first half of the race or Phill saw an endless flurry of attacks… Waiting his turn, Brown kept calm until the attacks subdued before going casually riding off up the road. A lap later, another six rider had joined him and they worked hard together to stay ahead of the bunch but their work was in all vein as the pack got organised and caught them with two laps to go. Using those final laps to catch his breath, Brown got into position for the final sprint and crossed the line in a solid fifth place.
Jay had an attritional race but kept his calm and sheltered in the pack before giving his all to the line, finishing in 6th place in only his third ever race, chapeau Jay!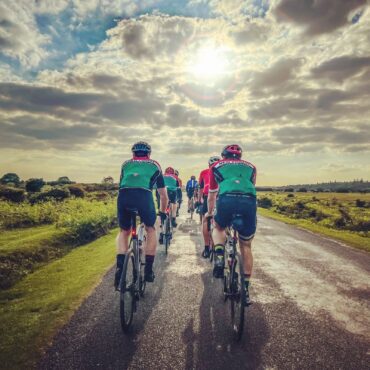 Thursday evening Chain Gang 10
A fine night for the chain gang this week and a very good turnout of 12 riders. The ride headed out of Brockenhurst in a single and very tight peloton. We reached the A35 and decided to split into two pelotons to be safer for the main road. Unfortunately, the communication was not heard by all the riders and the group split permanently and ended up as a two grouper to Burley and back to Brock. No real problem as everyone got a good workout and regrouped at Meerut road usual. Note to all chain gangers, for June and July the start time moves to 1900.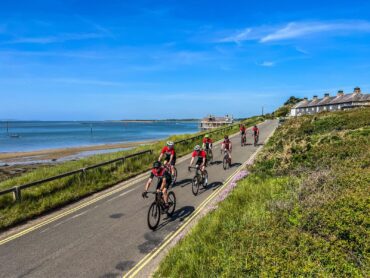 Saturday Club Ride
Another good turnout, 18 riders for this week's club ride, a 130Km forest loop. The group was split into two and planned to meet up at Minstead Community Shop for coffee. Kudos and thanks to Sean and Phil H for bravely stepping up to group 1 to balance the numbers. Being a sunny bank holiday weekend traffic volumes were seen as a risk but luckily the route planned around East End, Lepe and then around Bransgore was relatively traffic free. The plan to meet at the coffee stop worked and both groups arrived at their scheduled times.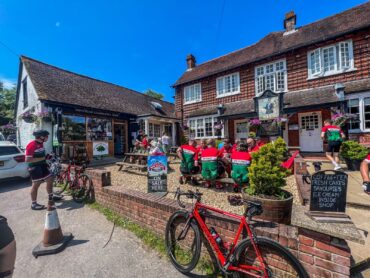 But a club ride would not be a club ride without somebody being put in the barrel. Last week Phil H was very miffed to read about Barry's mechanical ineptitude with his rear wheel and felt in danger of losing his Mechanic of the Year in perpetuity title. Phil had turned up on Thursday's chain gang moaning about a creaking bottom bracket. He bravely soldiered on and completed the chain gang putting high force through the bike. He then returned to his workshop on Friday (AKA The Cycle Graveyard) and proceeded to "fix" the creaking bottom bracket. He duly removed, regreased, refitted the bottom bracket several times in his attempts to cure the problem. After spending half a day on this futile exercise, he found the problem was that the QR in the rear wheel was not properly fitted. After the club ride several riders duly "rounded up to 100 miles" but some were not content with that so double kudos to Phil G, Jay and Ben for rounding up to 200Km plus.
Barry.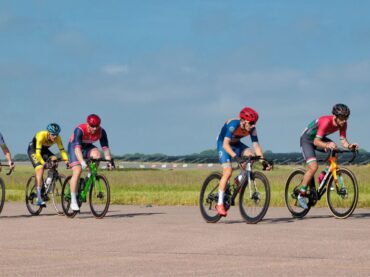 Swindon Wheelers Centenary Race Series R2
A trip back to RAF Lyneham for Phill Brown rather than the usual Saturday Club Ride this weekend for Round 2 of the Swindon Wheelers Centenary Race Series. A reformatted event for this round with the Cat 2 and 3 riders in a regional A race together, producing just over an hour of racing at north of 43km/h. Sadly for Phill, he missed the break that went off up the road and ended the race in the final group on the road, but still managed to sprint for the line and take 25th place.
Ride London 2023
A pair of hardy NFCC regulars made their way to the big smoke for the 2023 edition of Ride London. Tom Mayo, who had a massive crash just 3 weeks ago, completed the 60 mile route, finishing in 3:06 mins. Impressive work! And Stewart Hawkes taking part in his first sportive since LeJog 2022, finished the 100 mile route in just 4:52 bettering his previous PB by 13 mins.
Hounslow & District 100m TT
Big kudos this week to NFCC's Sien van der Plank for an outstanding performance at the Hounslow & District 100m TT – completing the event in a shade over 4hrs 43min. Chapeau.
Get Involved:
If you find yourself out and about representing NFCC, don't forget to jot down a few words, snap a few photos and send them over to press@newforestcc.co.uk.