Weekly Round-up: 04 Sep 23
PhillBrown
All the latest news, events, and results from NFCC Members from this week's two-wheeled adventures…
Thursday evening Chain Gang
A washout this weekend prevented any chaingang action this week – Note to all chain gangers; for September the start time moves to 1830.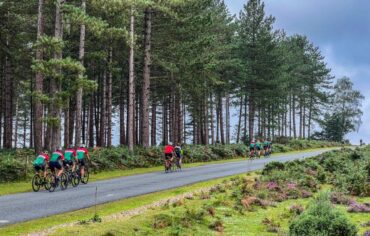 Saturday Club Ride
This week's club ride was a 138Km route to the north taking in Dean Hill. With a number of riders on holiday it was just 14 riders this week in two pelotons.
We were joined by Jeremy for the first time so a warm welcome to him. We are also joined by Phil J's new bike. Lovely machine but it is so green and so bright it has caused Ray to place an emergency order for the club kit. So, if your eyes are still hurting from looking at Phil's new bike please contact Ray for the new NFCC Welding Goggles which will alleviate the pain.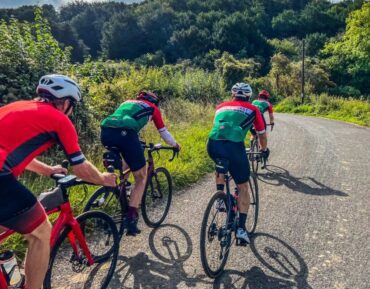 A very pleasant and largely uneventful ride in good weather (for a welcome change) but there are a few riders that were worthy of consideration for a turn in the barrel this week.
Third place was Barry, for forgetting to forewarn The Potting Shed of our arrival for coffee.
Second place was Reece for some socks so long that are definitely in breach of UCI regulations. A report to the governing body in Aigle has been submitted.
But this week's runaway winner is the aforementioned Phil J and his new bike. The bike came fitted with some superfast tyres and he's had three punctures in the first 10 days of ownership. This is also a warning in case you see an advert for Phil selling part used tyres!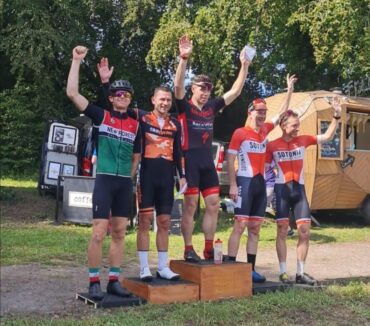 Wessex CX League 2023/24: Rd.1 Clafield
Cyclocross is back and 5 new forest riders made the trip to Clanfield for round 1. The course was dry, hilly and technical making it a tough but fun start to the season. Find out more by CLICKING HERE.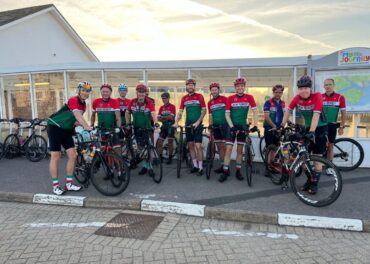 New Forest On and Offshore Audax
A whole peloton of riders took to the roads and ferry for the New Forest On and Offshore Audax – the 200km planner route included a trip around some of the best lanes of the Isle of Wight combined with a tour of the New Forest. Chapeau to all the riders in club colours who completed the audax event and a hat-tip to all the riders that went even further, with a number of riders clockoing over 250km on the day!
VC. St Raphael 28-mile TT
NFCC's time trialling power-house continued her amazing season of open events by recording the fastest women's time at the Velo Club St Raphael 28-mile time trial on Sunday morning in Sussex. The challenging course was no match for Sien van der Plank's unstoppable prowess, finishing the 28 mile hilly P911 corse in just 1h21m00s… finishing 3m15s ahead of second place – congrats. on another open TT victory!
Get Involved:
If you find yourself out and about representing NFCC, don't forget to jot down a few words, snap a few photos and send them over to press@newforestcc.co.uk.