Weekend Round-up: 26/27 March 2022
PhillBrown
With the sun high in the sky and not a cloud in sight, it was a stellar weekend for riding bikes… With half the usual suspects off on a training camp in Spain, it was a reduced turn out of only 14 for the Saturday endurance ride. Splitting into two groups for safety reasons, newly elected Racing Secretary Joe Shepherd joined the first group on the road and reported:
Saturday saw the first truly Summery club ride of the year with bare legs left right and centre you would have been forgiven for mistaking Brockenhurst for Barcelona. With moderate easterly winds there were personal bests all round on Strava segments heading west. The brisk pace did not let up after a stop at the Potting Shed in Hyde to refuel (sausage and hash brown sandwich, don't mind if I do). An excellent morning out if not the best preparation for racing on Sunday. Thanks to everyone who was out, not long now until we have Time Trials and Chain Gangs to keep us going during the week.

The second group split up across the course and stalwart Matt Smith was the only one to make it to the mid-ride stop. Chapeau Matt.
Sunday regular Robert Nuttall reported on the Sunday Endurance ride:
We met at Brockenhurst at 9am and despite one hour forward on the clocks and also Mother's Day, we were an enthusiastic turnout of 9 riders. The weather was sunny with a slight north easterly breeze, becoming warmer by the hour – time to get the knees out!
The team was led by Phill Brown who, having averaged 32kph on Saturday, set a quick pace. However he perhaps forgot that the Sunday team need 3 Weetabix and several coffees before they can sustain that kind of speed! With Bolderwood looming and a steep gradient, it was time to engage the low gears. On recovery at the top, a sharp right and a downhill spin brought us to Emery Down and Minstead. A lovely part of the forest made all the more so by the beautiful weather.
The ride was still at a brisk pace, thankfully causing no problems. We passed through Bartley and at the T junction in Ashurst we turned left onto the busy Lyndhurst road. Within half a mile we took a right turn, away from the traffic, and passed Longdown Dairy Farm. A straight road together with a tail wind enabled us to pick up the pace en route to Beaulieu. No donkeys around to cause an obstruction so on to Brockenhurst and a welcome stop at Setley Ridge tearooms where we enjoyed coffee and cake.
A thoroughly enjoyable ride with great company.

Joe Shepherd was left flying solo for NFCC at the first round of the Southern XC Series after Catherine Pascoe who was also due to ride had to miss out due to illness – fingers crossed for a speedy recovery Catherine!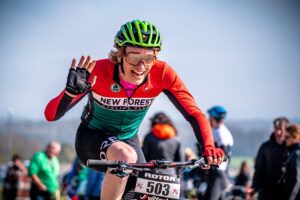 Sunday saw the first round of the Southern XC series of cross country mountain bike races, the venue was Matterly basin Motocross circuit alongside the south downs way. My preparation was hindered by automotive issues on the journey there which meant arriving only 15 mins before the start of the Mens Sport race, 5 laps of the 4.5km course. Racing blind is something I would not recommend at the best of times, but on a cross country course with technical rooted sections and a mass start of around 80 riders this made for a hairy first lap. Along with the technical, wooded sections the course was defined by two long hard climbs, with around 110m of elevation gain per lap. There were a number of familiar faces from the Wessex cyclocross league including Pitchside Paul, everyone's favourite photographer. I really enjoyed my first foray into XC racing and finished 42nd having been gridded 63rd. The next round is on 10th of April and will be held at the Holywell estate near Fareham, I would highly recommend it to anyone who is considering having a go. It can be entered
here
.

Don't forget to jot down a few words, snap a few photos and send them over to press@newforestcc.co.uk if you find yourself out representing the Club.