Weekly Round-up: 22 May 2022
PhillBrown
A mixed week for NFCC with a number of the usual suspects out of action or escaping to ride their bikes further further afield, but still plenty of action to report on…
Tuesday Evening Time Trial
Sadly, this weeks time trial was cancelled due to emergency road works on the course – P128/10 is possibly the fastest course we use but we still have a few more visits to come this year, so don't feel like you've missed out… A big thank-you to our friends at Sotina for the heads-up on the road works, much appreciated.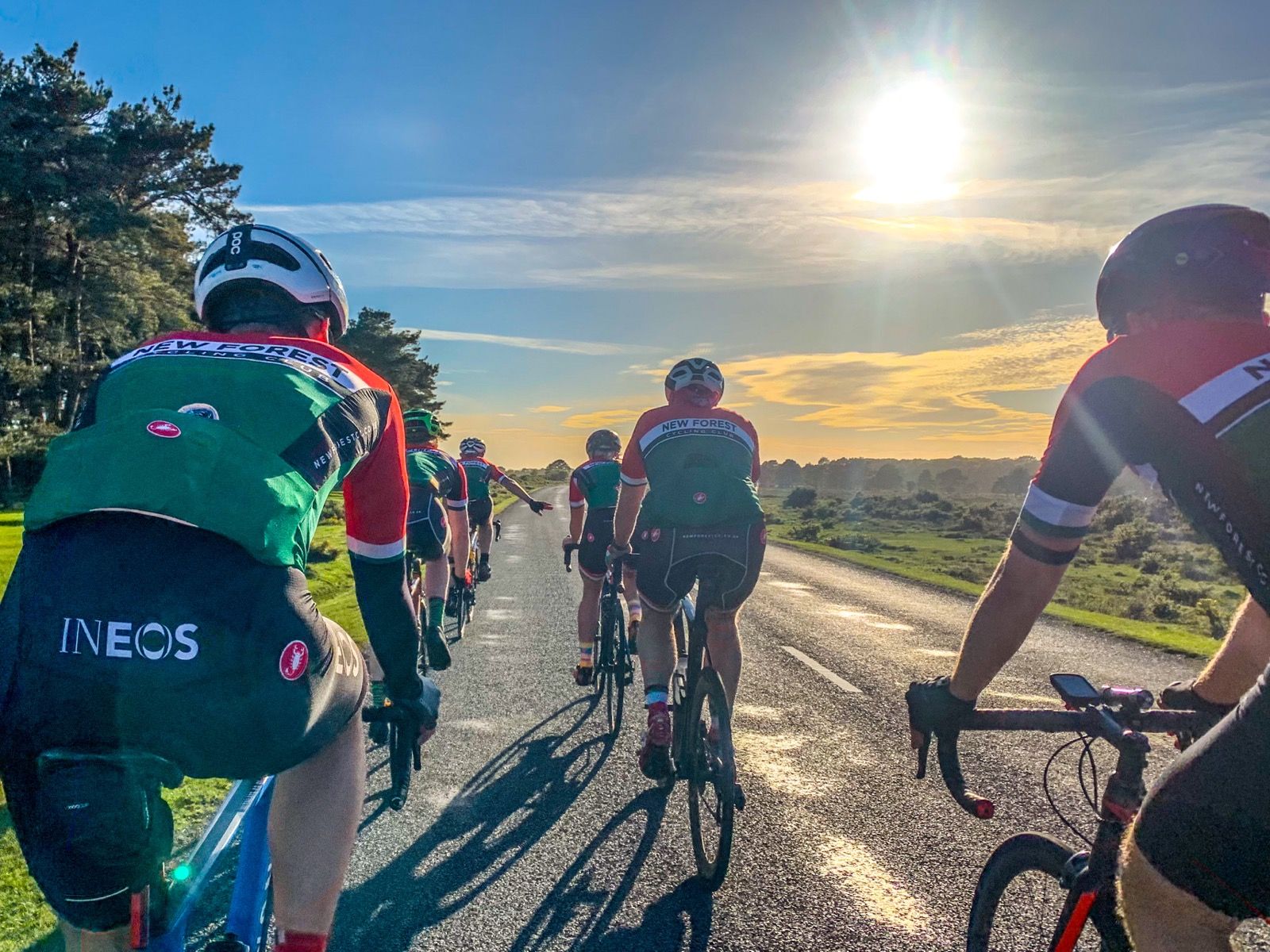 Thursday Evening Chain Gang
A team of seven turned out for Tuesday evening chain gang session on the ever more familiar Roundhills to Hatchet Pond course for an intense through-and-off training session and it seems everyone had a good craic. The various laps of the course averaged between 34 and 36km/h depending on the wind. The chain gang session is excellent for building your confidence and skill in riding in a close group at speed – everyone is welcome to come along, even if you've never been before. The format seems to have settled to a 1845 start from the entrance to Roundhills Campsite on the B3055 Beaulieu to Brockenhurst road… See you there!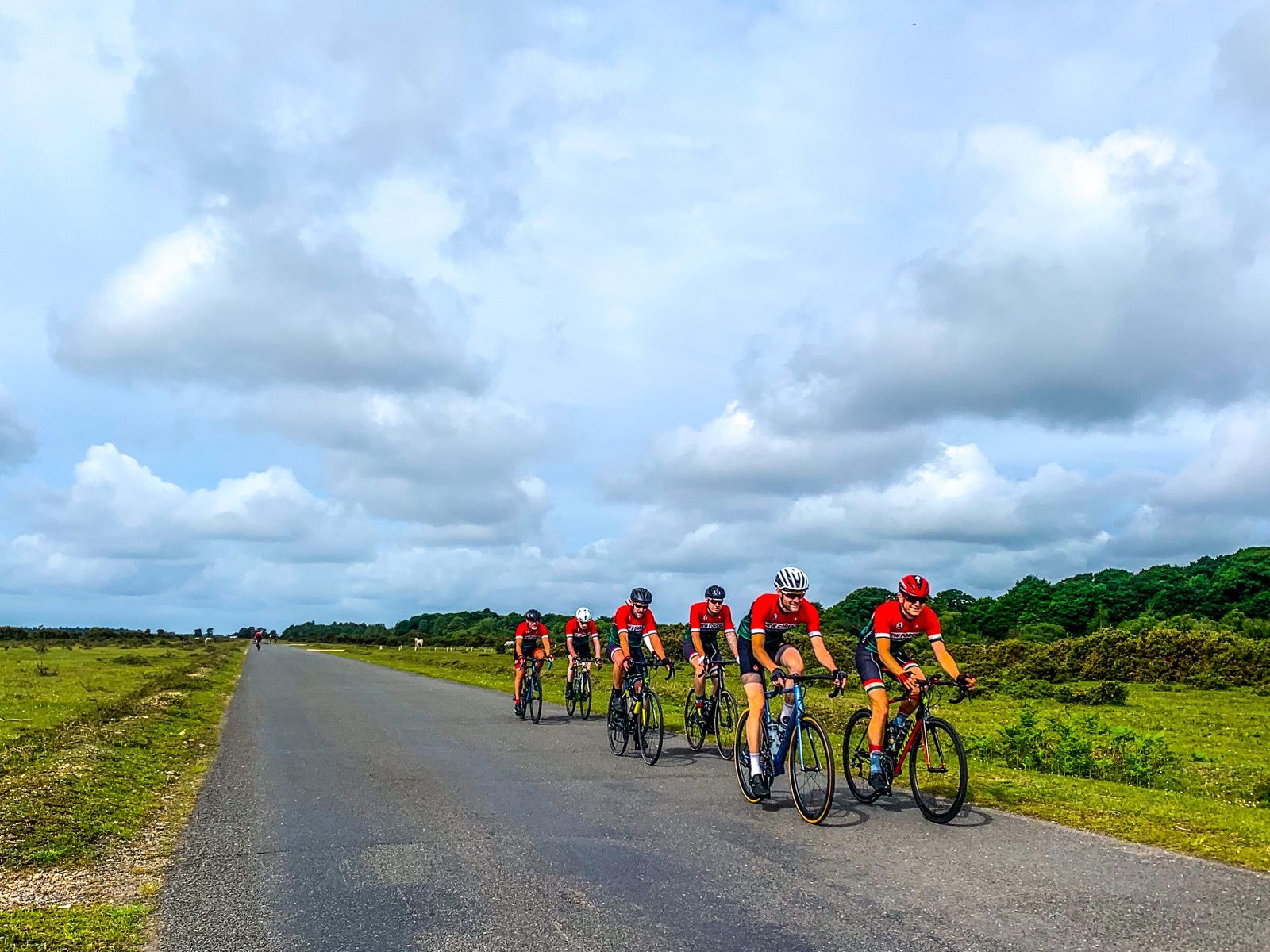 Saturday Club Ride
With Captain Wootton away looking for extreme power-to-weight saving gains, an unruly bunch of 17 gathered at the start of the Saturday Club ride for an expedition out of the Forest to avoid clashing with any of the mass-participation events that were underway. Heading north from Brockenhurst in two groups, the riders followed some familiar lanes and explored a few new ones to end up at The Waitrose Farm Shop at The Leckford Estate near Stockbridge. A friendly cyclist that was already there held a table for the group while coffees and cakes were collected before it was passed on to the second group, arriving around 30 mins later. An easier pace on the return leg for the first made for enjoyable riding before the hammer seemed to drop coming back across the airfield and dropping into Brock… An enjoyable ride for all, thanks for the route Barry.
Sunday Club Ride
This weeks Sunday Club Ride headed out past Hatchet pond to do an Ipley Cross loop before bypassing Beaulieu for a Southern St Leonards loop. Riders returned to Brock for a the short steep hill up past the church for vittles at The Daisy Tea Garden at Setley Ridge.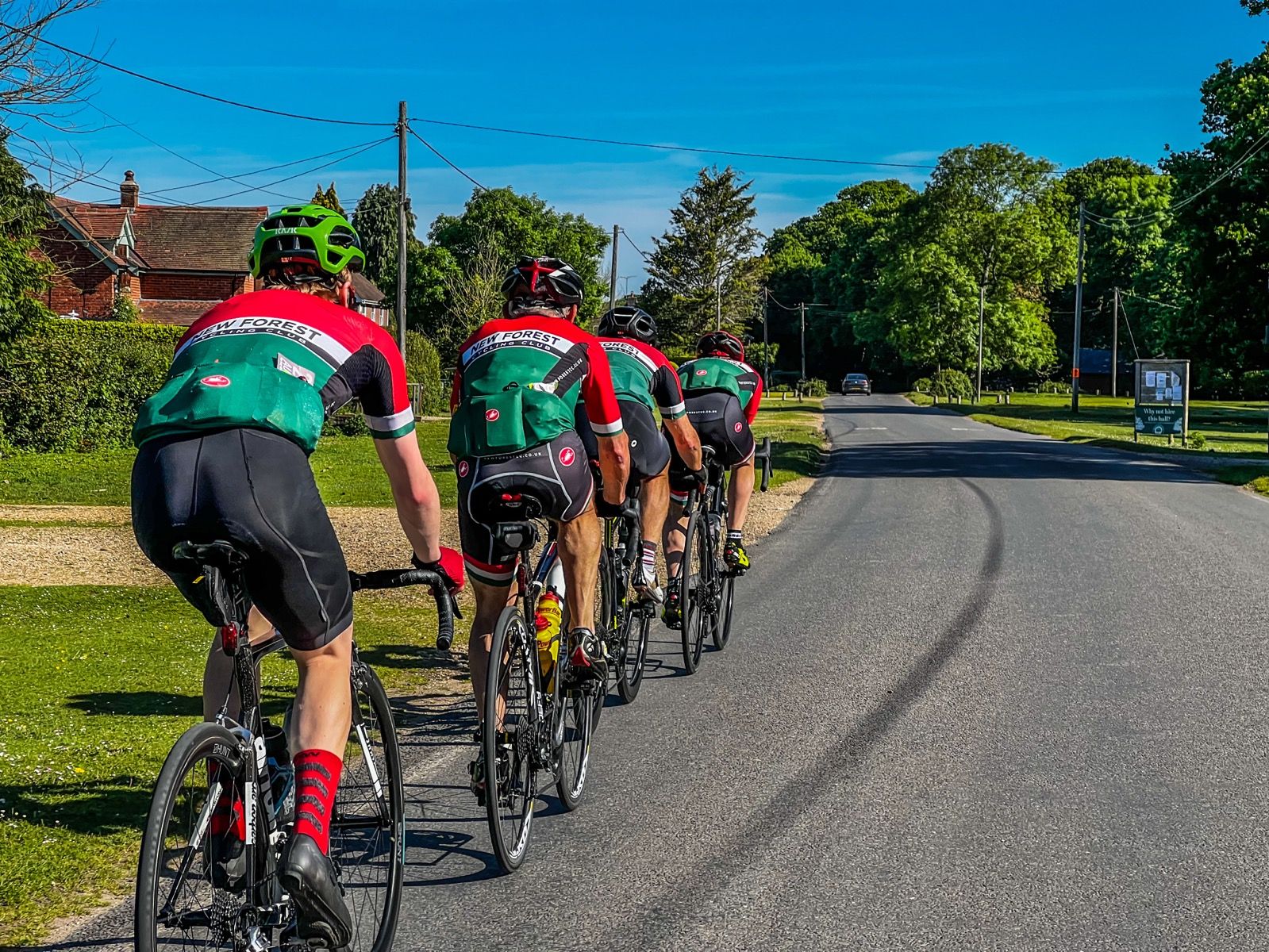 New Forest Excursion Audax
A team in red and green including Racing Captain Joe Shepherd were supporting Dave Smethurst on his New Forest Audax Event on Sunday Morning:
Sunday saw a different kind of event to the fast and furious time trials we enjoy on Tuesday nights, the New Forest Excursion Audax Ride organised by David Smethurst in affiliation with Audax UK. For those not familiar, Audax riding is all about the distance, 5 NFCC riders turned out in Lymington for the 200km route which took in every part of the forest.
On what turned out to be a glorious day for it our first stop was at Cranborne Garden centre café after around 55km this was where we could collect our first sticker as proof of passage. The NFCC breakaway was made up of myself (Joe Shepherd), Ray Claridge, Phil Grant, Neil Stevenson and Richard Parker and got plenty of TV time in the first 100km. Time on the front of the group was mostly shared between Phil and Ray before getting to the second sticker control at Lepe (102km), the latter putting his tt bars to good use on the southbound leg.
The second half of the ride became attritional as we started our second lap of the forest, a seemingly spontaneous puncture while stopped at Tesco in Blackfield did not help matters. After 120km Neil's legs had seemingly woken up and he spent most of the last 80km on/off the front of the group. Richard's better half paid us a visit on our way back into Brockenhurst for the home stretch and handed out well received refreshment to get us over the line.
At the finish in Lymington we were greeted with pasta, tea and rice pudding, which really hit the spot. Team NFCC ripped up the course with an elapsed time of around 8.5hrs and an average speed in excess of 29kph!
A fantastic day out on the bike and a great introduction to Audax events for myself thanks to the organisers and my fellow riders.
If you find yourself out and about representing NFCC, don't forget to jot down a few words, snap a few photos and send them over to press@newforestcc.co.uk if you find yourself out representing the Club.