Weekly Round-up: 2 Apr 2023
PhillBrown
All the latest news, events, and results from NFCC Members from this week's two-wheeled adventures…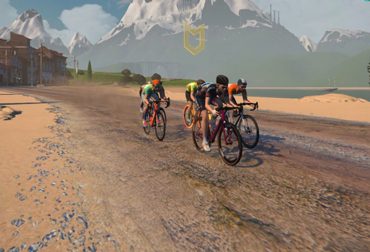 Midweek Zwift Training
This week saw an extended chain gang route, due to it being the last before we move out on to real roads. A flat and fast first 36km, followed by a race to the finish up the 4k volcano climb. Matthew Knight, Joe Oatley, Matt Smith, Phil Jones, Jay Tarrant and Phill Grant did well keeping the group together right up to the start of the climb. From here riders were free to race to the summit. Yet another close finish between Jay and Phil G, both recording a time of 1h:08m:39s, with Jay taking the win. A strong ride from Phil J saw him take 3rd place with 1h:09m:20s.
If you're a current Club Member and want to get involved with the Zwift training rides, CLICK HERE to send an email and receive instructions on how to join the Virtual NFCC Zwift Club.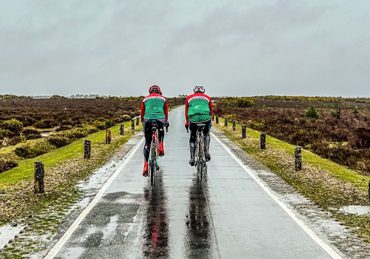 Saturday Club Ride
Eight riders managed to brave the weather and make the start for this week's club ride. The forecast was for rain all day and heavy rain between 1100 and 1300 so it took a lot to make the start line. We were well represented by Phil's which made up 50% of those starting. We picked up Roger after that start which reduced our Phil quotient to less than 50%.
Michael turned up dressed in a manner of a man who hadn't seen the weather forecast or had read that it was going to be 30 degrees, but didn't realise that was Fahrenheit!
The ride continued in the rain in a single peloton through Burley and onto Crow and Poulner. It then passed the house of Graham F who was dodging the rain and sitting in the warm and dry on Zwift. The passing peloton shouted out many words of encouragement as we passed his house, none of which are suitable for printing here.
The cold weather took it's toll on Michael who peeled off and reset the Phil quotient to 50%. Shortly after this Phill B's excessive mileage took it's toll and he discovered that his rear derailleur jockey wheels had worn out so he decided to head back to Brockenhurst for some emergency repairs at the LBS. Now the Phil quotient was down to a mere 43%.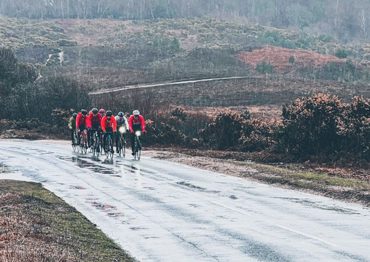 The ride had an option at Milkham to take the short cut back to Brockenhurst or do the planned loop around Nomansland, Hamptworth and Bramshaw. The remaining 7 riders decided they couldn't get any wetter and duly tackled the loop. The route passed close to Phil H's house and the temptation was too much, so another rider peeled off. We were now down to 6 and a 33% Phil quotient. After Roger Penny Way it was a block headwind so the remaining 6 continued riding through and off. At the end of Ocknell's Plain Phil J turned off so now it was only 20% Phil's with only Phil G remaining. At this stage we all decided that the coffee stop sitting in our wet clothes was a bad idea so all decided that it would be a shortened ride. We were then met by a returning Phill B who had made it back to Boost, purchased new jockey wheels, fitted them and rode back up Bolderwood. At this point we lost another Phil, Phil G, but gained a Phill B so now at a level of 25% Phill for the last leg. The remaining 4 rode back to Brock, Barry peeled off as the ride passed his house and the remaining three, Ben, Roger and Phill B fought it out to be the last rider standing.
Chapeau to all that turned out and let's hope that's the last wet club ride for a while as that's 4 weeks on the trot… Thanks to Ray for sourcing the club rain jacket as that has seen much service this month and performed admirably, but I won't be too upset if it stays in the wardrobe for a while now.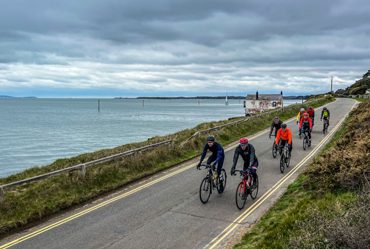 Sunday Club Ride
With Saturdays aquaphobics, joining a good smattering of Sunday regulars, new members and some who hadn't been for years the club welcomed an unusually large number of riders to the start at Brockenhurst. We picked up more members on route on the classic St Leonard's and Lepe loop route making us 20 strong. A very enjoyable and chatty ride finished at the ever popular Setley ridge cafe. It wasn't exactly deckchair weather but it made a very nice change just to get home without hypothermia. Quite a few took advantage of the mild-ish conditions to get some few extra miles in on route home.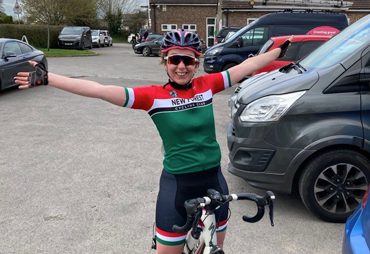 BJW 42km Sporting
The time trial super power that is Sien van der Plank was in action again this weekend at the Bournemouth Jubilee Wheelers 42km Sporting TT on the P454 course near Wool in Dorset. Successfully setting the fastest time over the line in the women's road bike category, finishing in just 1:12:51. We don't like to brag, but we can only point to the newly acquired NFCC kit for the win – congrats Sien!
Get Involved:
If you find yourself out and about representing NFCC, don't forget to jot down a few words, snap a few photos and send them over to press@newforestcc.co.uk.