Weekend Round-up: 9/10 April 2022
PhillBrown
It was back to business as usual for the Club for the second week in April… Weekend endurance rides capped the week off, but the return of Club time trials and Thursday evening Chain Gang made for a busy schedule.
The return of time trials welcomed a hardy bunch of riders onto the P170/10 course to kick the Ten Series off in true New Forest style – wind. A full report can be found HERE.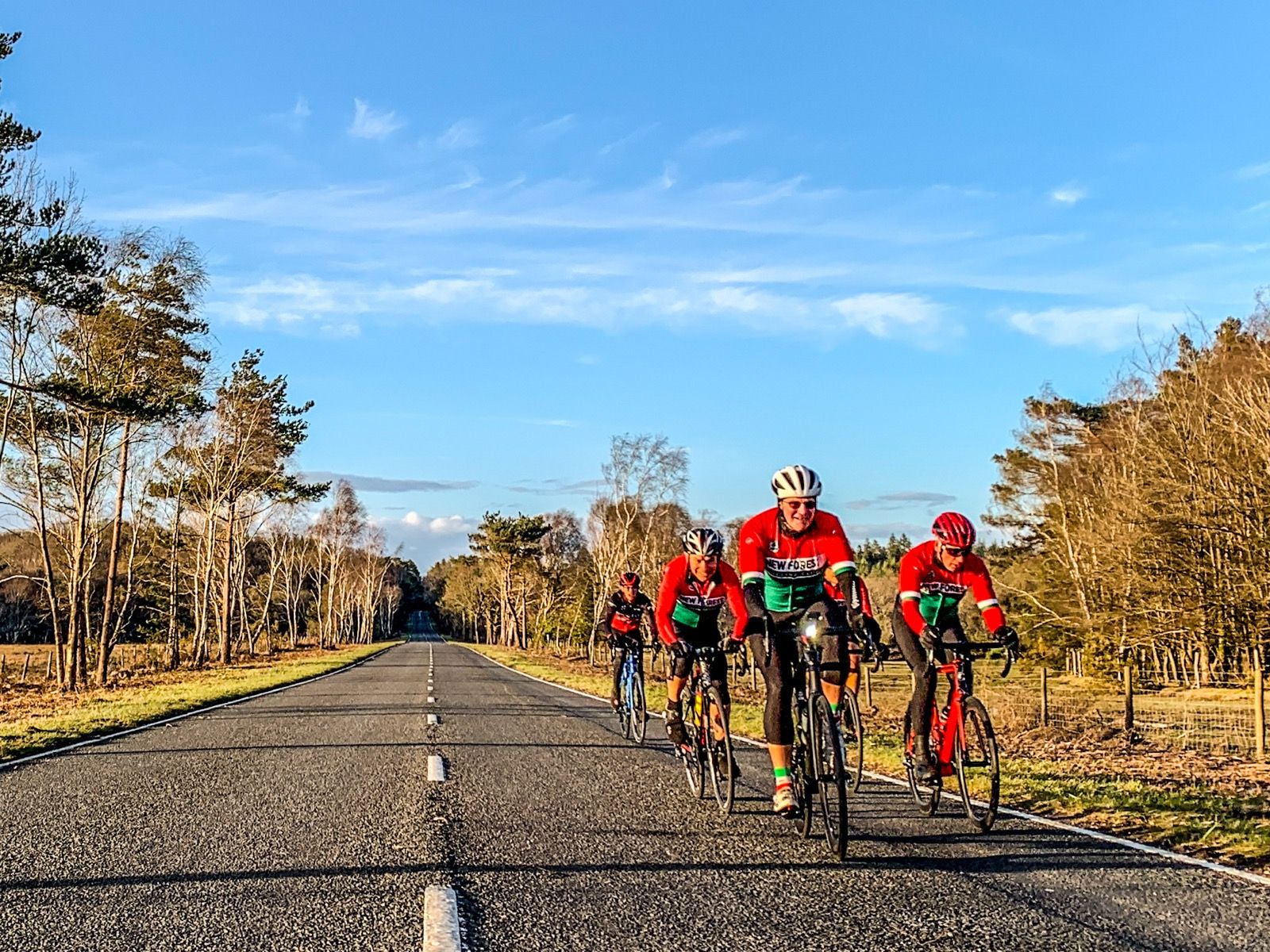 What do you get if you mix 3-parts Phil with a one part Barry, a teaspoon of Neil and sprinkling of Josh? A Thursday night chain gang of course…
First chain gang of the season was a blustery night and definitely a challenge for the riders, especially those who's bikes were equipped with deep wheels. Doubly difficult as there were problems on the A337 and more traffic than usual on the Rhinefield Road which was into a very hard headwind. Still, the headwind makes keeping good orderly pace lines even more important, so it was good for practicing the drill. Kudos to all the riders as the group kept in very tight formation and Phil G and Phill B even managed to take some good pictures for Strava to evidence this.
Six riders braved the conditions and headed out at 1830. 50% of the riders were called Phil as is usual for our club rides!
Due to the roadworks on the A35 / Holmsley we weren't able to ride our usual course, so a temporary course was used utilising the section of the A35 that was blocked off at the bridge. This proved to be a lovely course, no potholes, decent road surface, very scenic and traffic free.
As planned the pace of the ride was steady as we normally do for the first few chain gangs of the year but did increase gradually through the ride and the ride back to Brock was pretty lively.
Not sure what course we'll be on next week so keep watching the usual sites for news.

Veteran Bob Jolliffe was on the track at Calshot for one of the monthly Haddenham CC training sessions on Saturday.
With Easter in the offing there were only three others on the boards which allowed Bob, who is fast approaching 70 years old, to take second place in the flying lap, which is a shade under 143m, in a time of 12.20secs, just .07 seconds away from his personal best.
The kilo time trial over seven laps was a different story though taking place at about three hours into the four hour session. Tiredness was kicking in and Bob was four seconds off his best with 1min 38.37secs, nevertheless it was his second best effort at the distance after rediscovering the joys of the track in 2018.
Bob rode an 81.4in gear (49×16) for the session, dropping down an inch from his usual 83.0 (50×16).
A strong turnout for the Saturday morning club ride saw two groups out enjoying some quieter roads in an attempt to avoid a mass-participation sportive event in the forest. Matt Smith's usual Strava synopsis summed one of the groups up:
Another chilly start, but thankfully a sunny morning too. Good to have the hill climbers back in the pack this week, after their Spanish trip, and it clearly made a difference… I was even more off the back up the New Forest mountains today! Think I better sign up for next year's training camp!

While comments from a few riders in the other group seem to have enjoyed a speedy day out;
Not sure it's quite 'Form' but it'll do until 'Form' arrives.
-Phil H
Bit of smashfest…
-Josh C
Quickest century for a while. That's the Vamos va va voom
-Neil S

Phill Brown was happy not to take the blame for the pace being a little hot for a change, as he escaped the Forest without notice to ride around in circles at the Mountbatten Centre in Portsmouth instead, taking his second victory in his second race.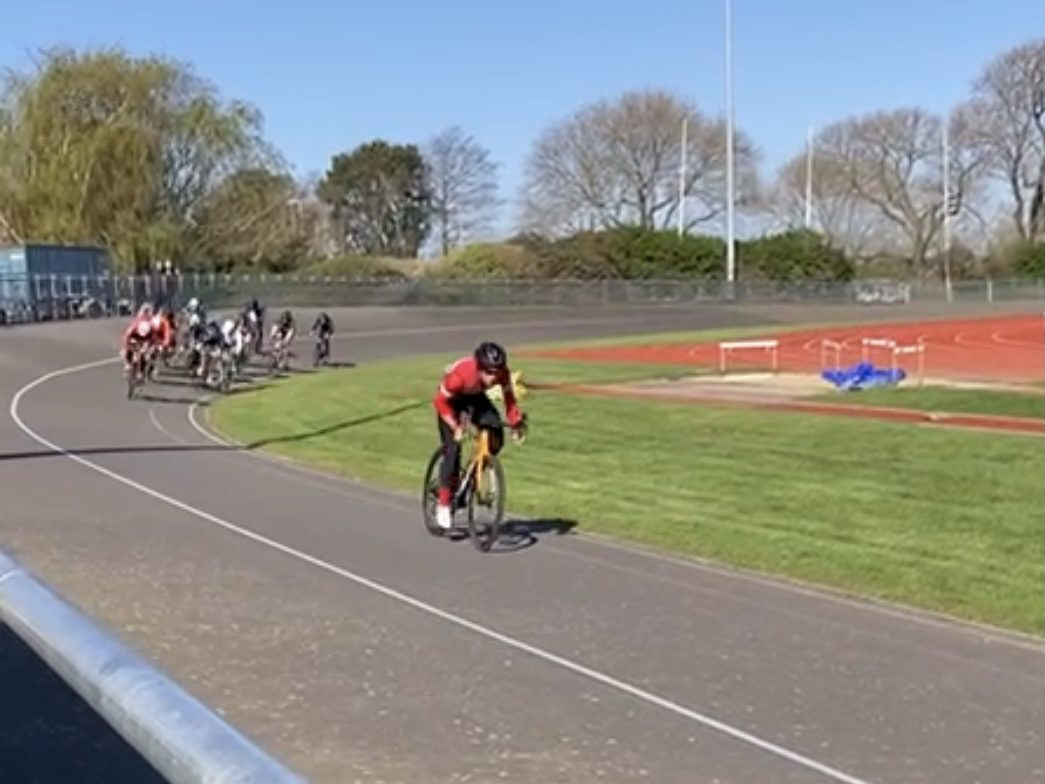 It was an early start to be in Portsmouth with enough time to get a decent a warm-up in and be on the track, ready to race, by 9am. The field was made up of a variety of riders, from those looking for the last few points to upgrade to cat.3 to a number of first timers, along with a strong show of white DH Racing jerseys. As with my first race, I tried a few moves through the duration but none really stuck and I wasn't able to get a big enough gap to hold the chasing pack at bay. Overhearing people sharing how low on energy they were in the last few laps and with only 5 minutes to go, I didn't need a second invitation to escape off the front and solo to victory. Omega Racing provided a flawless event and I'll certainly be heading back for more.

A select group enjoyed the Sunday club ride with a coffee and cake stop to finish at The Daisy Tea Garden at Setley Ridge again – seems like this is becoming a firm favourite for the Sunday club!

Don't forget to jot down a few words, snap a few photos and send them over to press@newforestcc.co.uk if you find yourself out representing the Club.