NFCC D-Day Tour of the Airfields 2022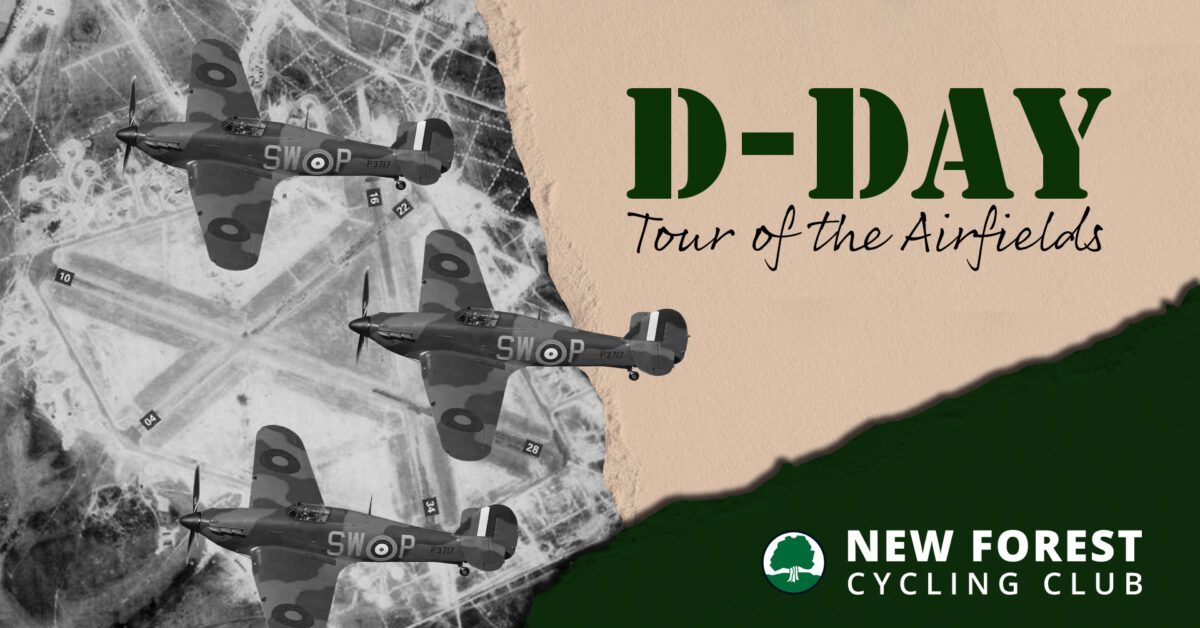 Back for the second year by popular demand, the NFCC D-Day Tour of the Airfield returns with a few improvements over the inaugural ride last year.
The plan for this year is to split the ride into two stages, both starting and finishing in Brock with checkpoints for riders to join/exit as they feel suitable.
This year's route will stick to the WWII airfields and locations within the forest boundary and avoid the sections on the busy roads from last year to get to Hurn Airport. Also excluded this year is the Marshalling Yard at Marchwood, again with safety in mind due to the roads around the location.
Everyone will be pleased to hear Chief Soigneur Julie Wootton will be handling supplies with mid and end-of-ride coffee stops planned at Chez Wootton in Brockenhurst, and it would be great if we can get an indication of numbers by responding to this event.
Timings
0750
Meeting time
0km
0800
Departure Time
0km
0945
Moyles Court Departure Time
43km
1200
Stage 2 start
87km
Meeting Place / Ride Start
Please meet at Brookley Road Carpark (the usual ClubRide start) no later than 0750 for a 0800 departure.
For those wanting a shorter ride we will not depart from Moyles Court any earlier than 0945 so please feel free to join there (or anywhere else on route). Also, there is no compulsion to complete the route, but if you do leave can you please let others know so we don't go back looking for you.
Julie will be baking for the coffee stops in Brockenhurst. She is currently doing a fundraising ride for various charities (Teenage Cancer Trust, Childline, Nordoff Robbins and Save the Children who've all been hit hard by the pandemic and have continued to do their work through it all. Save the Children are helping children in Ukraine at this time too). She's challenging herself to ride 175 miles in 12 days as part of the Heavy Metal Truants ride. If you feel generous enough to sponsor her in lieu of the money you might have spent on coffee stops (this is not compulsory) click below:
Time
Where
Role
Km
0800
Main car park in Brookley Road (usual club ride depart point) Please be at start at 0750 for a 0800 depart.
Get into groups: We will keep group sizes small especially for the early part of the ride where we will be on roads busier than usual due to the A35 Holmsley roadworks
0
Sway
Emergency Landing Ground
9
Holmsley South
Airfield & Memorial Site
21
Public toilets in Bransgore if required
Winkton
Advanced Landing Ground
27
Bisterne
Advanced Landing Ground
35
| | Where | Role | Km |
| --- | --- | --- | --- |
| 1115-1200 | Coffee stop | Julie will have home-made savouries, cakes and drinks ready in the garden | 87 |
| | Balmer Lawn Hotel | Planning HQ | 90 |
| | "Beaulieu | Airfield | 97 |
| | Lymington | Advanced Landing Ground | 104 |
| | Needs Oare Point | Advanced Landing Ground | 112 |
| | Lepe | Ship's departure point | 128 |
| | Stanswood | Marshalling Ground / Camp | 129 |
| | Calshot | Airboat maintenance and repair centre | 134 |
| | Public toilets available at Calshot if required | | |
| 1500 | Brockenhurst | Coffee / cake / End of ride | 159 |