Weekly Round-up: 20 Aug 2023
PhillBrown
All the latest news, events, and results from NFCC Members from this week's two-wheeled adventures…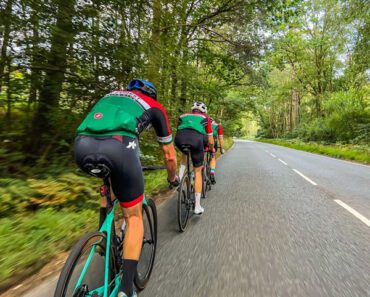 Thursday evening Chain Gang
Just a four-up tt-style effort again on this week's Thursday Evening Chain Gang training session – riders reporting their fastest ever time for a chain-gang and a supersonic Ben George departing like a missile off the front in the final stretch back into Brockenhurst.
Note to all chain gangers; for August the start time moves to 1845.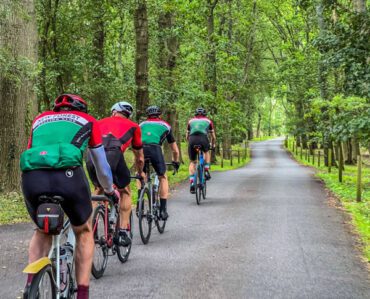 Saturday Club Ride
At last, a dry Saturday for the club run. I won't dwell on the high winds that added to the Type 2 Fun! Twenty riders including Trevor, a visiting rider from Chelmsford gathered at the start and set off east in two well matched pelotons for a 135Km ride north. The ride duly headed north making use of a favourable wind. Unfortunately, in the wilds of West Tytherley and some roads best described as "agricultural" Barry got caught by some glass on the road and made a mess of his rear tyre. Group 2 then split with half the riders going onto the café and half remaining to help / enjoy the spectator sport. The puncture was duly repaired, and Barry was grateful for many birthday gifts of spares and tools but when he went to put his wheel back the axle assembly reverted to its component pieces. Phil J and Barry studied the components and were at a loss on how to re-assemble. Then help came from a most unlikely source, one Matt Smith, whose mechanical expertise has ensured that his local bike shop owner has put his kids through college and has a fully paid-up pension. Smithy duly dispensed his words of wisdom (without getting his hands dirty of course) and Phil J expertly re-assembled everything, and we were back on our way. We have checked the records and this is the first instance of a Chartered Accountant giving free and useful advice and his will probably be struck off the CIMA register next week for doing this. By this time this group of 6 were well behind the others so whilst the first two groups headed to the Waitrose Farm shop for coffee so this group cut a little off the route and found an excellent alternative in Houghton.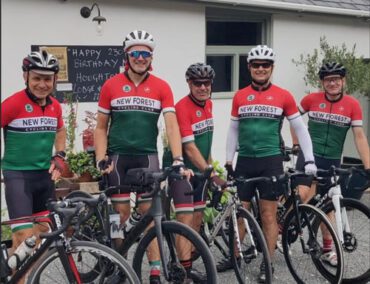 At the café after Barry had fessed up that it was his birthday some of his "friends" found a sign at the café celebrating a 230th birthday and drew the obvious conclusion and a compulsory photo opportunity ensued. Barry did try and plead that if he was 230, he would be on the club committee but that feel on deaf ears. Plans were made to re-group on the way back, but Matt K wanted to be part of the puncture club so duly ensured another impromptu stop for that group. All made their way back to Brockenhurst into a very challenging headwind. Kudos to Sean M who took some heroic turns on the front and provided a great deal of shelter to the grateful riders in his group. So, it is left to decide who's in the barrel this week. So, for a lengthy puncture repair which can only be described as Harrisesque, disintegrating rear wheel, delaying 5 other riders and losing them 10Km of riding Barry is diving in head first this week.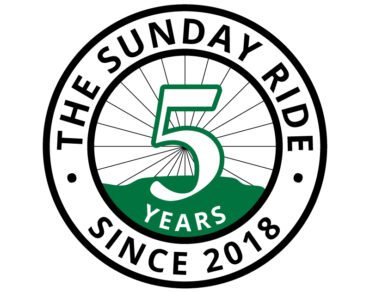 Sunday Club Ride
12 riders turned out on a beautiful sunny morning for the 5th anniversary outing of the clubs Sunday club ride. Conditions were amongst the finest that Sundays have had to offer in living memory and a nice, gentle chatty ride ensued. At some point the football fans in the group started to check their watches and calculate how much of the cup final they were going to miss if they rode the full route. Riders started dropping off or sprinting ahead accordingly with only a few making it all the way to the coffee stop. As things turned out the coffee and cake brigade made the right decision as England lost. May be another 57 years until we reach a World Cup final or have weather that pleasant.
A huge thanks to Phil 'Mr Sunday' Harris for all his hard work making the Sunday Ride such a success.
Get Involved:
If you find yourself out and about representing NFCC, don't forget to jot down a few words, snap a few photos and send them over to press@newforestcc.co.uk.